A cohort of residents at local senior housing facilities took a roll through North Portland in style Wednesday, including one 96-year-old taking her first cycle trip ever.
Organized by local bicycling advocate and Providence Elderplace optometrist A.J. Zelada and sponsored by Providence as an Earth Day-themed event in its Elderplace program, the pedicab and cargo bike ride from North Albina Avenue to Peninsula Park drew smiles from participants of at least four generations.
"I rode a bicycle," said Luu Quaiuu, a native Cantonese speaker, in broken English, before being helped into the bucket of a cargo trike. "But now I'm very old."
Luu Quaiuu, bundled up.
Carol Freda, 76, said she hadn't ridden since moving from Chicago to Portland 20 years ago to live near her late sister.
"When I came here I stopped riding altogether," Freda said. "I can go down the hill but I can't go back up. I would get asthma attacks. It's just not worth it."
Carol Freda, right.
Freda said that among Elderplace's events, this ride rated an 8 or 9 out of 10.
"Since we got Dustin, we've had a lot more interesting outings," said Freda, who said she doesn't get a lot of other social time since her sister died a few years ago and her niece moved out of town.
Dustin Razo, Elderplace's life enrichment coordinator, said Providence Elderplace's other activities include a competitive beanbag team, a watercolor class for people experiencing cognitive loss, and sessions listening to history podcasts.
"Most sites offer the standard bingo, birthdays, singers," he added. But other sites, he said, focus on people in their 70s, 80s and 90s. "We're more like 55 to 75. They want to do stuff."
The ride set out from Elderplace's Marie Smith Center on North Albina a little before noon, with Portland Pedicabs providing some of the chauffeur services.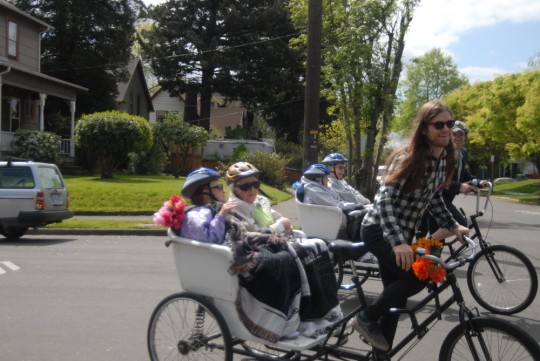 The ride even had music. Biking advocate Kiel Johnson had shown up with an on-bike speaker system playing Frank Sinatra classics.
"This is an attempt to start really making the 8 to 80 rule of active transportation
a reality for an inclusiveness of ALL," Zelada, himself a regular participant of Shift bike fun events, wrote in an email. "I think this is a prelude for all the Shifties as we all enter those golden years."
Martine Sacks (center below) was among the skilled corkers; I only noticed one honk from someone annoyed to wait for the ride to cross a street.
There was also a little bit of tension when one of the trikes got stuck briefly entering Peninsula Park, causing a backup on North Albina Avenue. But a couple of the participants were pretty effective ambassadors, waving in thanks to people in cars while the problem was resolved.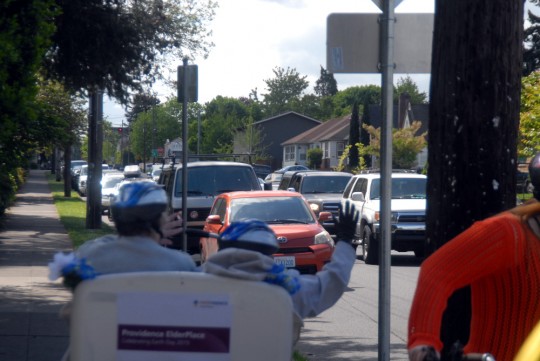 At the park, Zelada gave a short address at the bandstand about its history — envisioned, like many other parks in Portland and around the country, by the Olmstead brothers.
And then the pedicabs headed down into the park's rose garden for a few loops around the fountain, followed by a stop for picnic snacks.
"Maybe a 96-year-old can do this after all," said one participant, Fran Woolford, who is only a bit younger than the fountain. Woolford, whose birthday was this month, said she'd received a bicycle from her aunt when she was a little girl, but had never actually used it.
City staffer Greg Raisman, there to document the event, asked Woolford how she liked her first ride.
"So far," she said, "it's fun."
John Bilinowich, who was driving the van that would take people home after the event, agreed.
"It'd be more fun than riding in the vans, that's for sure," he said. "They're meant to haul stuff, not people."
Michael Andersen was news editor of BikePortland.org from 2013 to 2016 and still pops up occasionally.