Posted by Michael Andersen (Contributor) on January 12th, 2015 at 2:35 pm
There are many major safety gaps in Washington County, including this one
on SW Barnes near Cedar Hills Blvd.
(Photo by J. Maus/BikePortland)
Well, this is more or less the question that any road user dreams of being asked.
The county to Portland's west has $2 million to spend on street safety this year inside its Urban Road Maintenance District (part of the county's urban areas outside city limits) and is looking for comments on where and how to spend it.

The county already has a working list of 22 projects, all categorized as "pedestrian path." Most of the project descriptions end with the phrase "so pedestrians do not have to walk in the travel lane with vehicles or alongside the road in the grass and mud."
Enough said.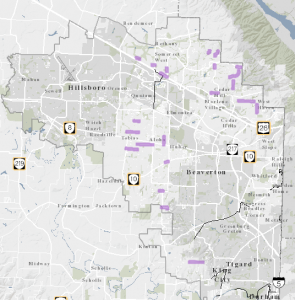 The boundary of Washington County's Urban Road
Maintenance District and 22 proposed projects,
marked here in purple.
(Image via the county's
interactive map
)
What other trouble spots should be on the county's list? Are there any small, cheap fixes that might squeeze into gaps in the budget? There's a good deal more than $2 million in work identified on the current list, so the county is likely to be parceling out these projects across years.
As the Oregonian noted last week, this work is funded by a property tax on local owners in the area. They pay a little less than 25 cents per $1,000 in taxable home value.
If you've got comments or projects to nominate, follow these instructions by Feb. 13.
Correction 1/13: Because of an error in the Oregonian article, a previous version of this post inaccurately described the number of project ideas Washington County wants to gather.
Michael Andersen was news editor of BikePortland.org from 2013 to 2016 and still pops up occasionally.