The lower-income seniors at Glisan Commons, Northeast 99th and Glisan, are expected to demand substantial bike parking, its developer says.
(Image courtesy REACH.)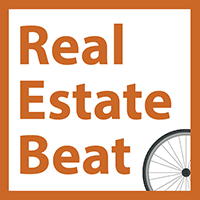 Apartments with lots of bike parking and little car parking are a hot trend in local real estate, and not just because more well-to-do people are looking to live that way.
Bike parking has become a popular amenity at publicly subsidized apartments in Portland, too. Even those for seniors.
"Our experience has taught us that bike use in our buildings tends to exceed our most optimistic expectations, which is a good thing," said Laura Recko, a spokeswoman for affordable housing developer REACH. "So we try and accommodate as much as is financially feasible."
REACH, Human Solutions and Ride Connection, a trio of social-service nonprofits, are co-developing a mixed-use lot at Northeast 99th Avenue and Glisan that will include 127 subsidized units for low-income workers and seniors. Though it sits just east of Interstate 205, the two-phase project will include 147 indoor bike parking spaces, several more than the city code requires.
It has 84 auto parking spots.
Even REACH's component of the project, which will be reserved specifically for low-income people over 65, is expected to include 50 indoor bike parking spaces for 60 apartments — 30 of them on hanging wall hooks.
That's lower than the city code's minimum of 66 bike parking spaces for a 60-unit project. REACH is asking for an exception on the grounds that seniors will have lower demand for bikes than other Portlanders.
Even so, Recko said she expects the senior-housing building's bike parking to fill up.
"We have definitely not found that seniors ride less," she said, referring to the popularity of bikes in REACH's Pearl District building for seniors. "We anticipate the seniors living at Glisan will lead very active lifestyles and we want to accommodate their activities as best we can."
The workforce apartments now leasing at Glisan Commons are studios and one-bedrooms, with rents topping out at $585. The maximum income to qualify is 60 percent of the Portland area's median — currently $2,430 a month for one person, $3,125 for a family of three — and the minimum income is 1.5 times a unit's rent.
In a rental market that's been one of the country's tightest for seven years in a row, REACH has had no shortage of interest in any of the projects they've been able to finance. It means that when designing projects, the group scours plans for any and all savings — building only as many parking spaces (for bike and car) as are required by either city code or residents' needs.
"We're leasing up in record time, unfortunately," Recko said, recalling one project that opened in December 2012. "We opened the leasing trailer in August of 2012, and we had people sleeping on the sidewalk the night before we opened."
"Portland is such a hot market," she said. "And there's just an overwhelming need for these projects."
— The Real Estate Beat is a weekly column. You can sign up to get an email of Real Estate Beat posts (and nothing else) here, or read past installments here. We are looking for a sponsorship partner. If interested, please call Jonathan at (503) 706-8804.