Expect the unexpected when you ride
on the Moody cycle track for
the next few months.
(Photo © J. Maus/BikePortland)
The hits in our detour-filled summer just keep on coming…
TriMet has temporary closures in place on the SW Moody Ave cycle track as part of their ongoing Portland-Milwaukie Light Rail Transit Project. The closures started last week and will last through October 18th. DeeAnn Sandberg with TriMet Community Affairs says the closures are necessary to allow TriMet to install tracks in the roadway. SW Moody is a major corridor to the South Waterfront neighborhood (and points south), the Aerial Tram, as well as OHSU's various patient facilities and offices.
Bicycle access will remain throughout TriMet's light rail work; but closures will alternate between the cycle track on the west side of the street and the sidwalk on the east side of the street. Here are details from a flyer TriMet is handing out in the area:
Aug. 1–Sept. 6: East sidewalk on Moody CLOSED, please use west sidewalk
Sept. 9–Oct. 18: West sidewalk on Moody CLOSED, please use east sidewalk
Where to cross Moody Avenue to the open sidewalk during this work: SW Gibbs traffic light near the Portland Aerial Tram or at SW Sheridan Street
Please watch for signage and flaggers
Travel slowly during these closures to make sure all bike and pedestrian traffic can get through the area safely
And a map to help orient yourself…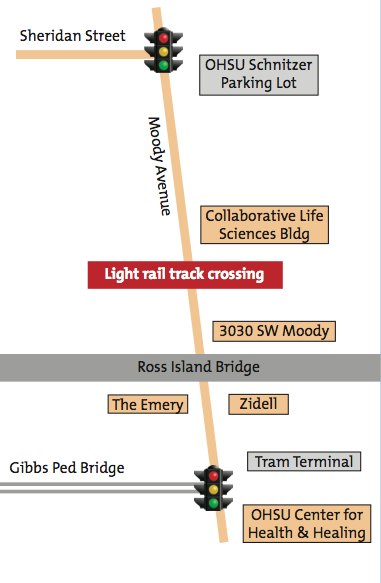 This light rail construction comes in addition to existing work being done on The Emery apartments and OHSU's new Collaborative Life Sciences Building. Both of those projects have narrowed the eastern sidewalk. Sandberg says TriMet is working closely with contractors to make sure there is always an adequate path available for people to bike through the area.
For more info and detour maps, visit TriMet.org/PM/construction or contact Sandberg directly via sandberd@trimet.org or (503) 962-2273.
NOTE: We want to keep you posted about all the detours in the area. Please let us know what you are seeing out there and for more information, visit our "Detours" page.