Posted by Judd Eustice (Contributor) on April 22nd, 2013 at 12:56 pm
Semi-organized, unsanctioned rides on a mix of gravel and paved roads are increasingly popular these days. There were three in the Portland area last weekend alone. One of the reasons people love these rides is the sense of adventure they afford. There are no markings or course officials. Riders are on their own except for the friends they bring or make. BikePortland contributor Judd Eustice tackled the Scappoose Soul Slaughterer yesterday and ended up getting lost. In the process, he had more fun than he ever expected. When he got home (after a shower and some food of course) he typed up a stream-of-consciousness recap in an email to me. He planned to clean it up before I posted it; but I thought it was fun to read in its original form. Hope you do too. — Jonathan
—
It was a bit of a mess from the start.
There were perhaps a dozen of us that showed up. A large contingent were from Team S&M and/or Sellwood Cycle. Mike, the organizer of the Slaughterer, showed up with multiple contusions all over his face from hitting the pavement on his bike after a night out. He wouldn't be riding. Not many of us, if any, printed out the cue sheet and only a couple of us had the GPS file on our Garmins. However, they weren't doing us much good. A local rider, James Ogbert, who works at Chris King, started leading us out and it was my understanding at the time that he had helped out on the planning. I caught up with my teammates, Aaron and Michael and we were up front with James.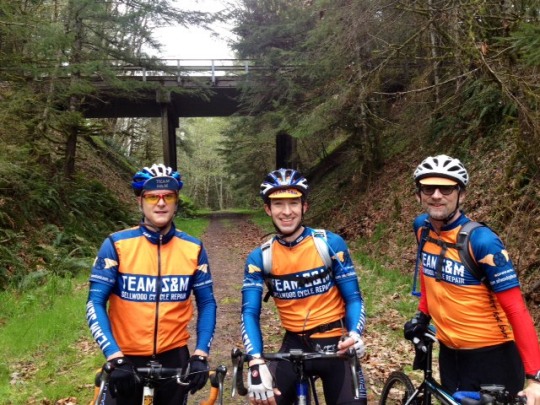 Left to right: Aaron, Michael, and Judd Eustice (author)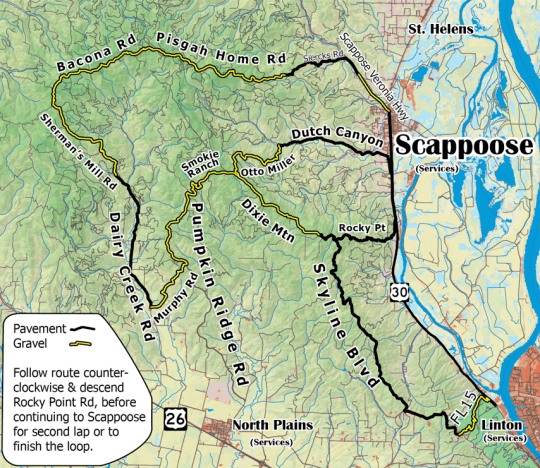 Map of Scappoose Soul Slaughterer route.
(Coalition Racing Development)
At an intersection, we realized that the rest of the group wasn't with us any longer. After a long wait, we assumed they had taken a turn off somewhere and we kept going. We started riding up the Banks-Vernonia trail and it was beautiful with its lush rainforest growth and rolling gravel. I felt it was ideal for this type of riding. However, I also felt it was too ideal. Mike had bragged about how hard this course was and how the first 20 miles would take about 2.5 hours. This wasn't that hard. He had also said that I was going to hate him about 45 minutes after we started due to the wicked nature of the course. I was beginning to praise him for the choice of the route and I knew that couldn't be right. Not Mike. Something was wrong.
James couldn't ride too much on the hills due to a torn MCL he was recovering from and when the trail met the highway, James bid us adieu and we thanked him for his help. But now we didn't really know where we were headed. We had a general idea and followed the trail downward in relatively smooth fashion through the forest, listening to the calls and tweets of the birds like cheering fans as we raced along.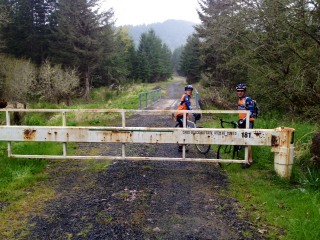 A gate near Highway 47 outside of Vernonia.
We came to a highway that was empty of cars but rolled along and all we saw as far as traffic on this Sunday morning were other riders on time trial bikes, obviously not on the Slaughterer. We asked one for some direction as to finding our way and he pointed out the gate on the side of the road several miles down that was a timber road that led to Vernonia. We carried our bikes over the gated barrier and proceeded up the hill on a road that was about as good as you can get for a working timber area.
As we made our way up the hills, the wear and tear of the previous days Ronde ride and my lack of sleep from the previous night began to catch up to me a bit. I let Mike and Aaron take off while I conserved my strength and found them waiting for me, which is not the way I like to find myself, pulling up the rear. But they were gracious and we kept going and moved through some gorgeous forest land with areas of clear cut that opened up vistas for us to gaze at. Unfortunately, the vistas were clouded over and the rain started sprinkling and the wind seemed just a little colder. We started to move down off the mountain.
"We all agreed that we were probably lost from the Slaughterer route, but we didn't care."
For anyone who has ridden one of these gravel grinders knows, the roads are very often poorly and/or cryptically marked and without proper navigation tools, it becomes a lot of guesswork and often the guessing is wrong. We almost had that. Our Garmins were worthless as providing any help. But our iPhones had service! We pulled up Google Maps and it pinpointed where we were and even gave us road names. Great! A long, winding mistake was almost made when we didn't flip the phone upside down to orient us in the direction of north. Luckily, we double-checked. Sure of our way, we flew down the rocky descents and it was the most incredible riding. The views were amazing, the sounds of birds was music and the sight of a large buck sprinting across the trail was just the type of surprise that I look for when I ride. My friends and I were in heaven.
We all agreed that we were probably lost from the Slaughterer route, but we didn't care. We were having a blast. That's all that counted. Mike had led us out of our urban neighborhoods and pointed the way to some supreme riding that led us to the discovery that we needed more of this. We were away from the mundane routes that we ride every Sunday. We faced a little bit of uncertainty and made the ride all that more adventurous. We felt free and our conditioning was carrying us through the difficulty of the adventure.
We finally got down to Vernonia and we were faced with a choice of taking the road (Highway 47) back to Scappoose or going back over the trails in the timber area and not knowing where we were really headed. Google maps pointed out that there would be many twists and turns that would slow us down, as we would have to stop at each intersection and re-orient ourselves before heading forward. Then the rain really started. None of us were prepared for this. All the weather reports seemed favorable and we were under-dressed. So we took the highway. 20 miles back to Scappoose. Again, what a lovely ride, other than the cold rain. We loved it! The rolling hills, the lack of heavy traffic and the forested canopy made it exceptional.
This won't be the last time we make our way out there. In fact, we'll probably go back next week.