Posted by Judd Eustice (Contributor) on March 27th, 2013 at 11:59 am
I'm excited to introduce new contributor Judd Eustice. Judd will cover Portland's racing scene, which a booming, vibrant, and important part of our community. As a blue-collar, part-time racer more interested in having fun than standing on a podium (although he'd be thrilled to do that too!), Judd is a product of what makes Portland's race scene so great: It's accessible and fun. If you have racing-related story ideas, drop us a line. Stay tuned! — Jonathan
—
We all have our reasons to ride bicycles. It saves money. It's healthy. It's a non-polluting means of transportation. It's fun! I believe strongly in all of those reasons. But now I ride to race.
I don't mean that I race every time I ride. But when I get on my bike, the legs twitch. The muscle memory is always there and I crouch a little lower because I have lined up my bike on a racecourse: on the road, on a track, in the mud, in the wilderness. I have experienced the thrill of hearing the whistle start the race, which turns my queasy anticipation into full strength effort and careful maneuvering. I have had the moment of panoramic sight and sound switch to a narrow track of intense focus. I love to find myself in that place where nothing exists except what is within the space between the rider ahead, and me. I love to feel my legs respond if someone passes me. I love giving chase.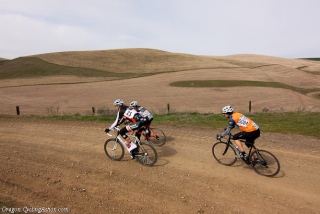 I came to racing late in my life. I have ridden bikes since I was five years old and have ridden in many different locations. I used my bike to get to school, and to the river to go fishing back in Kansas. I climbed the one hill in Lawrence (Oread) to get to classes at the University of Kansas. I rode from Kansas to Texas to end up in Austin for a short while before I took a bus back after my bike was stolen from my front porch.
I moved to New York City and found the challenging metropolitan lifestyle a goad to ride my bike. Commuting across the Brooklyn Bridge was the essence of New York City cycling. Riding up the ascent, I began to realize that I had some power as I challenged messengers riding the same direction as me.
But there was never any thought given to bike racing until I moved to Portland ten years ago. It wasn't in my vocabulary at all. It was a foreign concept. Nowhere along the way was racing ever mentioned. That all changed when I opened the sports pages of The Oregonian and read the articles written by Heidi Swift. She introduced me to the bike racing scene here in Portland and, hence, a whole new world. My curiosity grew as I spent time in the nearby bike shop, Sellwood Cycle Repair. She wrote about training for the upcoming cyclocross season. This was abstract quantum physics to me.
I followed her stories and was led to the opening Cross Crusade event at Alpenrose. That was it. The moment my cadence increased. As I watched everyone carry their bikes uphill and then fall in the mud at the bottom, I was immediately smitten. I headed to Sellwood Cycle to purchase a cross bike. I went from riding a hardtail mountain bike as a commuter to a Kona Jake, which I rode with new intensity.
"As I watched everyone carry their bikes uphill and then fall in the mud at the bottom, I was immediately smitten."
I started "training." I had no idea how. But I knew that I had to become more physically fit. My own health benefitted. I've lost 20 pounds since and I'm looking to shed a few more. (I want to lighten the load when I'm trying to crush Council Crest, McNamee or Tabor etc.) I'm more fit than ever. I look ahead to my later years and see people, like Ron Strasser, racing at full stride in their 60's and see no reason why I can't do the same thing.
Ten years ago, I didn't know bike racing from cow tipping. Today, I follow racing with obsession. I am constantly looking at results on OBRA. I am plotting my race schedule with my family throughout the year. I am very interested in international, professional racing, but not nearly as much as our own local Portland scene. It's amazing. I doubt there is anything like it anywhere else.
I already mentioned cyclocross, (the entry drug of bike racing for many around here,) but we have mountain bike races of all kinds from short to epic. Our road races spin through some of the most spectacular scenery in the world. We also have a criteriums and circuit races, such as the weekly races at PIR, which bring out large groups of riders. Last, and certainly not least, we're lucky to have Alpenrose velodrome; a high-banking, speed-inducing, thrill to ride!
I'm not a pedigree racer. But I love it no matter where I am in the field. I know that everyone else in the race feels the same way or they wouldn't be there. Racing has taken me to many different landscapes and introduced me to many new friends. We all have the same bug. My intention is not to look for a cure, but to feed the virus.
With this column, I hope to bring our racing community closer together. It will be my profound privilege to meet as many of you spandex wearing, heart rate monitoring, Strava obsessed, cycling athletes as I possibly can over time. I intend to report on races (sanctioned and unsanctioned), the people who promote the races, the people who ride the races and more. This is about Portland racing. It's not VeloNews. This is about my friends; the ones I know and the ones I'll meet. See you out there and thanks for joining me on this ride.