Kristin Dahl with Travel Oregon unveiled
exciting new numbers on Oregon bicycle tourism at
a breakout session titled, Bicycling Means Business:
Getting the Facts Straight.
(Photo © J. Maus/BikePortland)
From a boom in bike manufacturing in Portland to increased economic vitality on streets with protected bike lanes in Manhattan, signs of how bicycling grows the bottom line are everywhere in America these days. On Tuesday during the National Bike Summit in Washington DC, a panel of experts addressed yet another component of this wave of good news: The major economic implications of bicycle tourism.

Coverage from Washington D.C.
made possible by:
Kristin Dahl, Travel Oregon's senior manager of destination development, spearheaded the bicycle tourism portion of the panel amid her advocacy peers from other states and Jerry Norquist of Cycle Oregon. Far from just a romantic endorsement of mountain biking or cycle touring, Dahl's presentation focused on facts and data.
From Travel Oregon's just-released Oregon Bike Travel Study (PDF), Dahl shared that bicycle tourism injects a whopping $325 million into the Oregon economy.*
This study also found, among other things, that an overnight bike tourist had 19 times the economic impact of a day tourist (this should be a huge incentive for rural towns to make themselves bike-friendly); visitors biking in the Central Oregon and Columbia Gorge regions spend over 10% of the region's tourism dollars; and 4.5 million people of Oregon's 17.4 million annual tourists rode bikes while visiting (which should help strengthen the call for better bike trails and infrastructure). The study is based on an online survey that was filled out by over 5,000 people. It also broke down demographic, gender, income, and detailed data about the type of bike-related and spending activities people engaged in.
Below are a few slides from Dahl's presentation: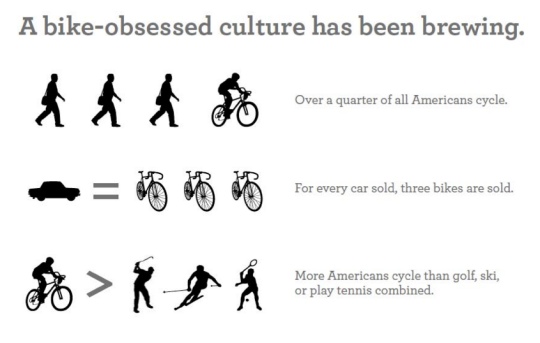 The invaluable data in this study substantiates a significant argument for bicycle tourism. Once the final numbers are in, it will be used by advocates and community leaders to leverage interest in bike-friendly initiatives from business leaders and policy makers alike.
"The study, the first ever done in Oregon, indicates the bicycle travel segment of our market is strong," said Dahl to a packed room of advocates eager to add this ammunition to their arguments. "But the real value in a study like this lies in helping community leaders and business owners make sound judgments about investing. Data plays a critical role in informing a community's economic vision for recreation and tourism."
Adventure Cycling's Jim Sayer (L) and bike-friendly
business district expert April Economides
weren't subtle in making their point.
(Photo: Ellee Thalheimer)
Beyond Dahl's Oregon presentation, Jim Sayer, president of the Adventure Cycling Association and bike-friendly business district expert April Economides gave a short talk during a Summit luncheon plenary called "The Boom in Bike Tourism."
The Adventure Cycling Association has collected substantial numbers about the economic impact of bicycle tourism around the country. Wisconsin claims $924 million annually, Minnesota $261 million, Vermont $83 million, and Iowa is at one million dollars per day.
After a long day of digesting figures and stats, bike tourism advocates convened at a nearby bar to stimulate DC's local beer economy for a collegial happy hour. People from Washington state, Oregon, DC, Arkansas, California, Montana, Pennsylvania and beyond rubbed elbows over loud music.
A crowded pub sometimes proves a superior environment for connecting, brainstorming, and percolating ideas at conferences like the National Bike Summit. However, next year at the Summit, I hope bike tourism is a bigger part of the conversation. It deserves to be (as much as I like swilling beer and scheming).
(*This study by Dean Runyan Associates of Portland includes only preliminary numbers and is subject to change. Final numbers will be available later this year from Travel Oregon.)
Ellee Thalheimer is author of Cycling Sojourner: A Guide to the Best Multi-day Rides in Oregon and co-author of Hop in the Saddle: A Guide to Portland's Craft Beer Scene, by Bike