Chris Sanderson is a Portland-based licensed general contractor. Like many people in his line of work, he does a far amount of demolition and hauling for his clients. But unlike other contractors, Sanderson's company vehicle is a bicycle, not a truck. Sanderson owns Builder By Bike LLC, a bike-based company he launched back in February.
On a recent job, he was asked to take down a metal basketball goal. He didn't think there would be any problem taking it to a local metal recycler, so he was surprised when he was turned away.
Sanderson emailed us to share what happened:
"I loaded that metal goal on my bike trailer (along with other metal), and took it to a Bob's Metals in North Portland to recycle the material. I was told that I was not allowed to bring metal to their scrap yard because I was not in a motor vehicle. I tried to talk to the associate at the metal scrap yard, and she told me that it is a state law, and that I could not drop off the metal there because I was on a bicycle."
Sanderson says he was "very upset" by what happened. Now he's hoping to work with his state representatives in Salem — Rep Jules Bailey and Senator Diane Rosebaum — to amend the law so it never happens again. He has written his state representatives in hopes they will champion the issue.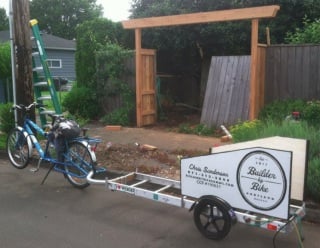 (Photo: Chris Sanderson)
An employee of Bob's Metals recalled Sanderson's visit when I spoke with them today. The employee said they are not able to service people that arrive on bicycles because of a state law that requires them to document would-be recyclers. "One of the records we are required to keep when someone comes in is a license plate. We cannot buy from people on foot or bicycle," she said.
The Bob's employee said she's following SB 570, a law passed in 2009 that was aimed at thwarting metal thieves. That law requires metal recyclers and resellers to record, "A description of, and the license number and issuing state shown on the license plate affixed to, the motor vehicle." But it's important to note that "motor vehicle" is immediately followed by "if any".
The Bob's Metals employee said the problem was worse a few years ago, when "people were stealing metal and then scrapping it for cash." "And the majority of them were on bicycles," she added. This is the first time this issue has come up at Bob's Metals since the law was passed.
This is unfortunate. The law is either unclear or it contains an unintended bias against bicycles that should be amended as soon as possible so that people like Sanderson are not denied service in the future. We'll keep you posted.