Stormtrooper spotted downtown.
(Photo: Greg Raisman/
Flickr
)
12 days into Pedalpalooza (about half way through!) and the rides and good times show no sign of slowing down. In the interest of keeping you in the loop about what's going on out there, I thought I'd share a brief update on just some of the rides going on…
Thursday's highlight was Darcelle's Parade of Glitz and Glitter, a tour of downtown Portland with none other than the famous, 81-year-old drag queen herself. Ride organizer Carl Larson said Darcelle (in her usual sequin dress) rolled along with the 70-person ride in a pedicab and pointed out various places of interest. Portland Mercury reporter Sarah Mirk was there and snapped some great photos…
On Friday (6/15), Amos Hunter hosted another one of his awesome Get Lost rides. 50 or so people showed up follow a route left entirely up to chance. Dice are rolled to determine how many blocks to ride, and which direction to turn once we the group gets there. I followed Amos' photos and noticed they ended up in the back of a school playground, along a major highway, down dirt roads, and then eventually at a pub "somewhere on NE Fremont."
Here they are, getting lost along a dirt road somewhere in northeast Portland…
On Saturday, fans of sci-fi got together for the Star Wars vs. Star Trek Ride. There was an X-Wing fighter pilot, various versions of Princess Leia, a Tribble bike, StormTroopers, and even an amazing AT-AT tandem. Greg Raisman captured some fun images of the ride, including this one of an X-Wing pilot…
And check out this amazing AT-AT tandem captured by Sarah Mirk:
Also on Friday, the Ginger Ride had another huge turnout this year. Redheads and those who love them joined up to ride in solidarity. They met at Dawson Park in north Portland and hit several stops — including a group photo next to the big carrot (get it?) atop Cherry Sprout market on N. Mississippi Ave.
The Dropout Prom was the finale on Friday. I heard reports that as many as 600 people ended up at this annual, late night ride and party hosted by the Dropout Bike Club. Excellent photographer Dabe Alan captured a ton of fun moments, including this one of the dance party and city skyline…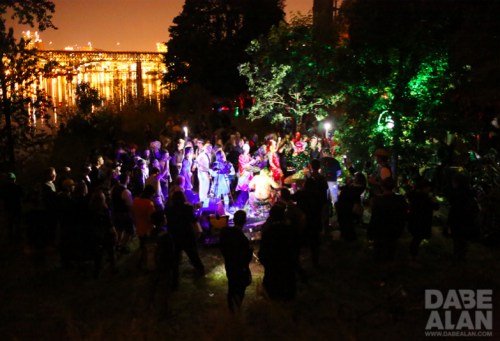 And did you hear about the World Naked Bike Ride? It was huuuuge and wild and crazy as ever (maybe a bit too wild according to some folks). You can see more photos and read a recap and lots of comments on our post from Saturday night.
And finally, you didn't really think we could have a 3+ week bike fun extravaganza without a proper Zombie Apocalypse Ride did you?
Check out the Pedalpalooza calendar for upcoming rides and keep having fun on bikes!
Jonathan Maus is BikePortland's editor, publisher and founder. Contact him at @jonathan_maus on Twitter, via email at maus.jonathan@gmail.com, or phone/text at 503-706-8804. Also, if you read and appreciate this site, please become a supporter.