Posted by Jonathan Maus (Publisher/Editor) on June 11th, 2012 at 12:03 pm
Walnut's new Frame Handle.
(Photo: Erin Berzel Photography)
We love local bike-inspired artisans. One of them that has been a favorite since he burst onto the scene at the 2009 BikeCraft show is Geoff Franklin of Walnut Studiolo.
Geoff's leather works are very solid. He's nailed that sometimes elusive mix of quality, function, and execution. This morning he shared his latest product, the Frame Handle.

Geoff calls the Frame Handle design "deceptively simple" and says it "makes carrying your bicycle as easy as carrying a briefcase." It looks like one of those things that you see and say, "How come no one else made one of those before?" Here's a bit more about it:
"The Frame Handle (a.k.a. "The Little Lifter"!) is a comfortable, stylish, sturdy, and easy-to-use leather handle for carrying your bicycle, whether it's up the stairs, across the tracks, or into the metro.

Designed for urban commuters, this minimalist handle makes carrying your bike actually feel easier and lighter by lowering the center of gravity and using your normal muscle groups for lifting and holding your bicycle, same as lifting a grocery bag or carrying a briefcase. Because it's easier to lift and hold, you're in more control of your bicycle, making it safer to hold in crowded settings."
Here are a few more photos…
Custom monogramming available.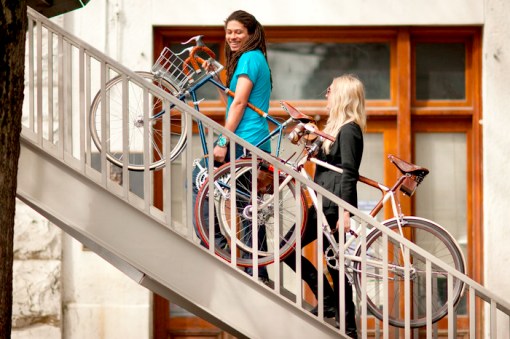 Love it. Great design. And a local success story continues.
Turns out lots of other people like this idea too. Geoff and his partner Valerie used Kickstarter for the first time to do a presale of the Frame Handle and purchase the $3,500 in leather to make the first run. It was funded (and over-funded by $700) in just two days! Check the Kickstarter vid below…
I'll definitely be grabbing one of these for my work bike. Learn more at the Kickstarter page and see more photos here and