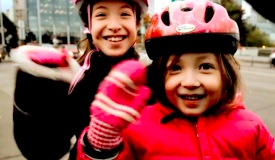 Still from video by Kona on why
people like to bike in Portland.
Portland's valuable biking brand continues to pay dividends for our city as two new pieces of bike-positive media are circulating the Web this morning.
The first is from Fox News. Yes Fox. While the abundance of love for Portland from the New York Times is nothing new, to have Fox put bikes front and center in a travel piece is a bit of an eye-opener. In their 10 reasons to fly to Portland, Oregon right now, Fox cites seeing "bike lovers" as one of the things to cross of your bucket list while here. Then, after you've eaten all our food and guzzled all our beer and spirits, the Fox piece reminds visitors to "Work it off" with a group bike tour, "… anywhere from an easy spin around downtown or a day out in the Gorge or up in wine country…"

And Kona Bicycle Company released a new video this morning in their 'How Bikes Make Cities Cool' series. While it was produced to help sell their new line urban bikes, the video doesn't feel like an advertisement at all. It's actually one of the most inspirational and well-done videos in the popular what-makes-Portland-so-great-for-bikes genre that I've ever seen. The interviews with kids are a highlight, with one of them saying he bikes because it helps prevent climate change and "Polar bears are epic!" You've just gotta watch this…
Both of these bits of publicity for Portland are much more than just nice pats on the back. This type of stuff boosts our city's bottom line by bringing tourists here and by perpetuating our strong brand for bicycling — a brand that encourages business and the talented employees they rely on to move here.