Posted by Jonathan Maus (Publisher/Editor) on March 9th, 2012 at 8:28 am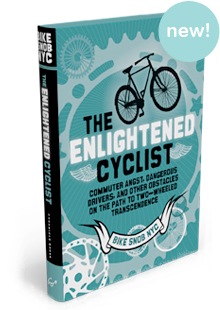 The Bike Snob (Eben Weiss) has a new book and he's headed to Portland next month as part of an 11-city promotional tour. The Snob's eponymously named first book was a smash hit and he's back for more with, The Enlightened Cyclist: Commuter Angst, Dangerous Drivers, and Other Obstacles in the Path to Two-Wheeled Transcendence (Chronicle Books).
Here's the publisher's blurb:
The joys of commuting by bike attract scores of new converts every year. But as fresh-faced cyclists fill the roads, they also encounter their share of frustrations—careless drivers, wide-flung car doors, zoned-out pedestrians, and aggressive fellow cyclists, to name a few. In this follow-up to the best-selling Bike Snob, BikeSnobNYC takes on the trials and triumphs of bike commuting with snark, humor, and enthusiasm, asking the question: If we become better commuters, will that make us better people? From the deadly sins of biking to tactics for dealing with cars, pedestrians, and other cyclists, this primer on bike travel is a must-read for cyclists new and seasoned alike.
You can ride with the Bike Snob on April 10th. 21st Avenue Bicycles (916 NW 21st Ave) is hosting a ride starting at 6:00 pm that will end at Powell's City of Books at 7:30 for a talk and booksigning.
For more on Bike Snob, watch his new video (below), check out the publisher's website, or, have a laugh on his legendary BikeSnobNYC blog…