Bike access seems to have been an
afterthought on this bridge over the
Tualatin River on 99W.
(Photos: Jim "K'tesh" Parsons)
Back in December, amid smiles and celebrations at the groundbreaking for the Sellwood Bridge project, our roving West Side correspondent Jim Parsons reflected at the poor state bridge access on many Washington County roads.
With design drawings of the enviable biking and walking lanes slated for the Sellwood Bridge fresh in his mind, he fired off one of his trademark emails to his usual coterie of advocates, bureaucrats, and policymakers. The subject line read: "Bridge Improvements needed in Washington County."
Parsons documented six bridges in particular he felt "could use some work." Below are his images and his comments on each of them:
99W has four bridges that need help… There's this one crossing the Tualatin River eastbound (Narrow, narrow, and narrow (and poor signage))…
and then the westbound crossing of the Tualatin River (Narrow, bad signage, questionable approaches)…
The Rock Creek bridge is unpleasant for cyclists… (no ramp up to the sidewalk, fast traffic frequently squeezing us)…
and Tigard Viaduct bike/ped/ADA access is narrow and frequently choked by vegetation
In Beaverton, we have the bridge over Beaverton Creek (SW Hall between the MAX tracks and Performance Bikes) which is narrow and has ice/snow/vegetation issues.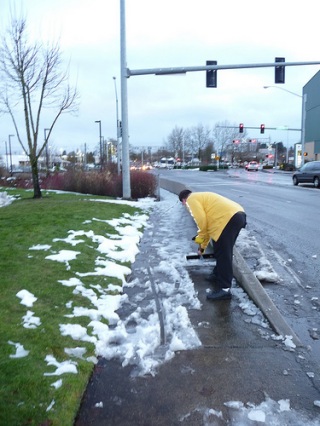 And let's not forget this gem on SW Canyon (Beaverton), we have the bridge located between Video Only and BurgerVille
This wheelchairist (two photos up) couldn't make it across this "sidewalk" to get to the crosswalk at SW Lombard. He ended up crossing mid-block…
Parsons' past campaigns to replace dangerous storm drains, re-stripe bike lanes, cut back vegetation on paths, and other things, have been met with a surprising frequency of success. Here's to hoping he can raise enough attention to these bridge access issues to get some improvements to them as well.
— Live or ride in Washington County? Check our past coverage of that part of the region here.
Contact Jonathan at @jonathan_maus on Twitter, via email at maus.jonathan@gmail.com, or phone/text at 503-706-8804. Also, if you read and appreciate this site, please become a supporter.