Posted by Will Vanlue (Contributor) on January 31st, 2012 at 1:13 pm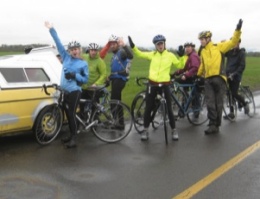 Last year we shared the story of a group of Environmental Law students at Lewis & Clark College and their 'Bike to Eugene Challenge.' The annual event takes a group of 20-30 law students on a ride from Portland to the Public Interest Environmental Law Conference (PIELC) in Eugene.
The 140-mile ride by 'Team Eugene', as the students call themselves, reduces the group's carbon footprint and helps illustrate the benefits of bicycling for long-distance transportation.
For another consecutive year, they'll be riding their bikes to Eugene for the PIELC in March and they'd like your help getting there. Students have organized training rides to prepare for the ultimate 12-hour trip and they're looking for support as training continues into March.
Lewis & Clark law student Megan Kent recently sent an email to the OBRA mailing list asking for donations of food, gear, and tune ups:
"To facilitate [the ride], especially for our new riders, we are seeking donations of bike gear (tubes, rain gear, bike lights, etc) food provisions, and discounted tune-ups for the remainder of our training period and our one-day, 140 mile ride Portland to Eugene on March 1, 2012."
If you can make a donation or would like more information, you can contact Lewis & Clark's Coalition Advocating Transportation Solution (CATS) at cats [at] lclark [dot] edu.
UPDATE: Contact information for Lewis & Clark was updated in this article.