On the road from
Dallas to Kansas City.
(Photo courtesy of Dave Weber)
You could ride from Portland, Oregon to Los Angeles, California but you still wouldn't travel as many miles as Dave Weber rode his bike in September. Even adding a detour along Highway 101 from Sacramento to Bakersfield would give you fewer than the 1,096 miles Weber rode on his way to and from work last month.
Weber was the recipient of the Brian Reynolds Distance Award, given each year to the rider with the most miles logged in the Bicycle Transportation Alliance's Bike Commute Challenge.
How exactly did he ride 1,096 miles in one month, just on his way to and from work? Here's a clue…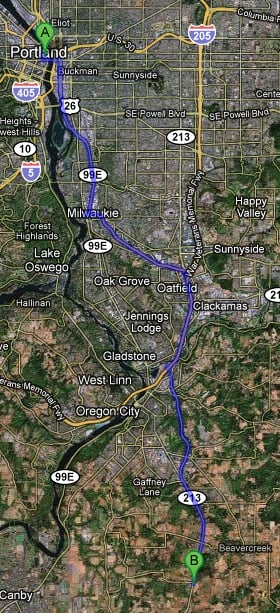 Map of Weber's 22 mile (one-way) daily commute.
The miles add up quickly on his 40-plus mile daily commute (round trip). Weber starts (as early as 2:00 am on some days) near Carus Elementary School in Beaver Creek and rides north along Carus Road, Highway 213, through Oregon City, under I-205, along McLaughlin Blvd, across the Clackamas River, and eventually along the Springwater Corridor, across the Hawthorne Bridge, and up into Old Town where Weber works at NW Natural.
Weber rides this route almost every work day. The only exception is when weather conditions are too harsh to keep his bicycle upright:
"I ride every day that I go to work unless there is black ice (I haven't figured out how to keep my bicycle upright for extended period of time on black ice although I have ridden in it several times) or snow accumulations covering the riding surfaces. I have ridden to work in snow storms and when it was 10 degrees outside in 1996. I ride about 18,000 to 20,000 miles a year and I use my bike to pick up small amounts of groceries (less than 10 pounds) and run errands as well as go to meetings and events in my personal life.
Riding that many miles has, at times, taken a physical toll.
Despite the fact that he always rides "as defensively as possible, looking for signs of movement from cars anywhere on my path" Weber has been struck by people driving cars seven times. These collisions have often left Weber in the hospital; he's had surgery to repair his face, his hands, and once woke up to find himself in the ER after being broadsided by a truck that ran a red light. According to Weber, his helmet (which he wears "anytime [his] bicycle is in motion") has saved his life on four separate occasions.
In spite of his injuries, Weber keeps riding simply for the love of being on a bicycle. Elaborating on what keeps him riding, Weber explained:
"I ride my bike because I enjoy the freedom and satisfaction of propelling myself from one place to another. I have ridden across the US in seven one-week segments, from Brownsville, Texas to Kansas City in 5 days by myself and from Boston to Sault St Marie, Canada in 5 days by myself. Each of these trips allowed me to see, smell, and sense the US in a way that no one can in a car."
Dave Weber's story, and the intrinsic joy he gets from riding a bicycle, is an inspiration. The next time I catch myself making the excuse that a destination is too far to reach by bike, I'm going to think of Dave.