Traffic on Williams.
(Photo © J. Maus)
On Tuesday evening the Bicycle Transportation Alliance set up a "Recharge Station" on the corner of N. Williams Avenue and Tillamook. They offered free bike repair and other goodies while they asked folks to become members and get involved with local bike advocacy. They also took the opportunity to count the number of people that passed by on bicycles.
The result? In just two hours (from 5:00 – 7:00 pm) 627 people rolled by on bikes.
That's a lot of bike traffic. While the BTA didn't count the number of motor vehicles that came by, official traffic volume estimates by the City of Portland tell us that bicycles make up more than one-third of the total traffic volume on Williams.
According to a presentation given Tuesday night at the Williams Traffic Safety Operations Project Stakeholder Advisory Committee meeting, the peak hour traffic between Weidler and N. Cook consists of 1,920 motor vehicles and 920 bicycles. Bicycles make up 34% of the total traffic volume.
However, despite Williams being one of, if not the busiest bikeway in Portland, the street offers very little in the way of a high-quality biking experience. In fact, it's such a hairy place to ride (door-zone bike lane, lots of fast-moving cars, cross traffic, and so on) that many people opt for adjacent streets.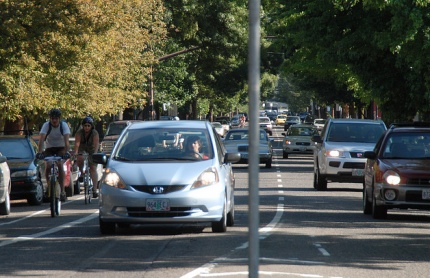 Despite high levels of bike traffic, Williams offers (in some segments) four full lanes for motor vehicles (two for travel, two for parking) and just one standard bike lane.
If bikeway access on Williams was improved to the level it should be, I'd be willing to bet that within one year, more than half of the peak hour traffic would be bicycles.
Thankfully, the City of Portland is working on this issue right now. There's a very important open house on April 16th which will be the public's first chance to officially weigh in on options being considered to improve the unbalanced mobility situation on Williams.
Learn more about the project on the City's website, and stay tuned for more coverage of this important issue.