Posted by Jonathan Maus (Publisher/Editor) on February 11th, 2011 at 1:30 pm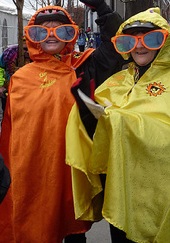 Bring on the weather!
(Photo: Jim Parsons)
Sorry we've been a bit behind in getting this out. See below for some fun bike events this weekend…
Friday, February 11th
11:00 pm: Midnight Mystery Ride – Lightbar!
Meet at Alleyway Pub (2415 NE Alberta) and at midnight, take off to a mystery location to enjoy the amazing-ness that is Lightbar.
Saturday, February 12th
9:00 am: Cycle Wild Bike Camping – Oxbow
The Cycle Wild crew is headed to Oxbow Regional Park. Join them for bike camping at its best (rain or shine!).
9:00 am – 12:00 pm: OBRA New Rider Clinic
This classroom clinic for new racers will be held both Saturday and Sunday in Northwest Portland. Get schooled in the rules and tactics and ask OBRA officials your burning questions.
Sunday, February 13th
8:00 am: Worst Day of the Year Ride
Now in its 10th year, the Worst Day of the Year Ride is one of the biggest organized rides in Portland. Organizers are expecting a sell-out crowd of 4,000 to hit the streets this year. Online registration is closed, but you can still show up to the start line and get in on the fun.
6:00 pm: Drop-in Wrench Night at Citybikes
Drop in and fix your bike at the Citybikes Annex (734 SE Ankeny). It's free and shop mechanics will be on hand to help you out.
Jonathan Maus is BikePortland's editor, publisher and founder. Contact him at @jonathan_maus on Twitter, via email at maus.jonathan@gmail.com, or phone/text at 503-706-8804. Also, if you read and appreciate this site, please become a supporter.