The aftermath of an errant driver.
(Taken from KGW footage)
A sad situation on NE Alberta and 18th Streets this morning. According to KGW, a man driving a car passed out and ran into a few parked cars and two bikes locked up in a bike corral. One of those bikes belonged to local artist, author, museum curator, ride leader, and veteran of Portland's bike fun scene, Carye Bye.
Carye's "Puch" brand mixte has been by her side for almost 10 years and it has been on countless adventures (I've been lucky enough to join her on a few of them). After the collision, Carye posted "Dear Puch bike" memories on her Facebook page. Her updates reminded me how — despite its monetary value — a good and reliable bike can mean a lot to its owner.
Below are Carye's "Dear Puch bike" memories…
Dear Puch bike, it was tough, but we made it all the way from Portland to Lost Lake in Mount Hood one summer. And while after that I only rode you in and around town (10 speeds has it's limitations). You were always my favorite.
Dear Puch Bike — we had so much fun in Vancouver BC last Spring. We took the train up and I boxed you up for the first time, and we rode all over town together!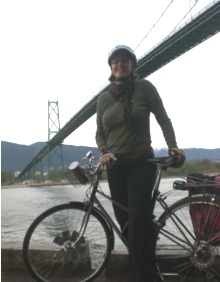 Dear Puch Bike – Our first "tough" ride together to Crown Point.
Dear Puch Bike: you even liked to dress up once in awhile — you went all out for Sven & Greta's tour this year! I miss you.
Thankfully, Carye has a lot of friends who are handy with bikes so I'm sure the Puch will be replaced — or better yet, reborn!?