[Longtime BikePortland reader John Beaston recently completed a bike tour with some friends along the Oregon Coast. I asked him to share a few photos and a brief recap about what they did along the way. Please note: Since this ride combined bicycling and beer drinking, I asked Beaston to explain how they made sure there was no pedaling under the influence. He said they had a designated support van the entire way and all brewery stops were scheduled at dinner, so no riding was done after imbibing.]
The group at Seaside.
John Beaston is second from right.
Back in 2002, a friend and I did the Oregon Coast Bike Route. After we got home we told all of our beer buddies about what a great experience it was; a pitcher later and we had concocted the 2010 Oregon Coast Brewery to Brewery Bike Tour — a 7-day, van-supported jaunt from Astoria to Brookings taking in the scenery and stopping at all seven coastal breweries.
We just returned and here's a combo beer and road report…
Breweries (see full list below)
The good: Those seven breweries are creating some fantastic beers. Ft George Brewing in Astoria and Wakonda Brewing in Florence were our favorites places. Wakonda's Imperial Pilsner was our standout beer.

The "needs improvement": There are no breweries south of Florence. That's a long, long dry stretch. This is a huge economic opportunity just waiting in Coos Bay, Port Orford, Bandon, Gold Beach and Brookings.
The Oregon Coast Bike Route:
The good: The scenery is spectacular. It is a world-renowned route after all. This is a Cycle Oregon-class ride. We averaged 60 miles per day and over 3000 feet of climbing. The state-supplied map is
great, and much of the route takes side trips off Highway 101 on low traffic side road. These side trips were some of the best sections of the trip. Since 2002, the state has used stimulus money to significantly improve the pavement quality in spots. There are now miles and miles of baby-butt smoothness to enjoy.
The "needs improvement": There are also miles and miles of shoulder chock-full of debris (primarily gravel and wood chips). Particularly in the southern part of the route, sections of the travel lane have been repaired or repaved but the shoulder has not. Some places have dangerously narrow shoulders that require sharing the road with massive RVs and log trucks. Bridges are often pinch-points requiring taking the lane or walking.
Our advice: Do it! Especially after Labor Day to avoid some of the traffic. Ride carefully. Many of the tourists are not used to being around bicycles.
The OCBTBBT team was John Beaston, Ted Forgeron, Steve Armbrust, Rich Bader, Cort Vaughan and John Driscoll…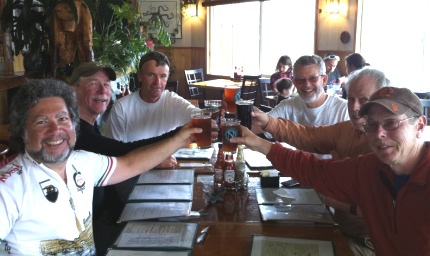 The Breweries:
Fort George Brewery + Public House
Website
1483 Duane St.
Astoria, OR 97103
503-325-PINT

Wet Dog – Astoria Brewing
Facebook
144 11th
Astoria, OR 97103
503-325-6975

Warren House Pub (owned by Bill's Tavern/Brewery)
Facebook
3301 S Hemlock
Cannon Beach, OR 97110
503-436-1130

Pelican Pub & Brewery
Website
33180 Cape Kiwanda Dr.
Pacific City, OR 97135
503-965-7007

Rogue Ales Brewery
Website
748 SW Bay Blvd.
Newport, OR 97365
541-265-3188

Wakonda Brewing Co.
Facebook
1725 Kingwood St. #4
Florence, OR 97439
541-991-0694

Wild River Pizza (brewery in Cave Junction)
Website
16279 Highway 101 S
Brookings Harbor, OR 97415
541-469-7454