Posted by Jonathan Maus (Publisher/Editor) on August 3rd, 2010 at 9:01 am
Jack Toland (on the left)
with friend Danny Fox.
(Photo courtesy Danny Fox)
The day before Thanksgiving 2009 changed Jack Toland's life forever. Toland has raced and ridden in and around Portland for over 40 years — much of it without a serious crash. But on November 25th, his lucky streak ended. Toland hooked a wheel of the rider in front of him and fell while riding with a group of friends near West Linn. The crash left Toland with multiple fractures of his left elbow and a broken femur. He spent nearly a month in the hospital and underwent several long surgeries.
The crash was especially tough on Toland because he did not have health insurance (he had lost his job prior to the crash) and the medical bills were as daunting as his outlook for recovery. Thankfully, Toland has many friends in the bike racing community. When he went down and the bills piled up, his friends came together to help him raise money.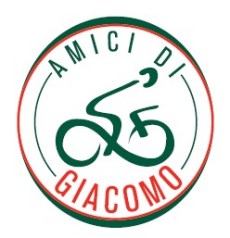 Amici di Giacomo ride logo
But they soon realized Jack wasn't the only one in this all too familiar predicament and now they've incorporated a new non-profit named "Friends of Jack," whose mission is to help raise money for people who have a serious crash while bicycling and lack adequate insurance coverage.
Here's more from the newly launched FriendsofJack.org:
"As tragic as Jack's story may be, we've probably all heard several stories like it… We all know how precious and fragile life can be and how quickly it can change. One day you are on your bike and totally in control. The next moment, you are recovering from serious injuries and wondering how you are going to make ends meet. It can happen to any of us. That is why it is incumbent upon those of us with the means to help our cycling friends that may have come into difficult times."
On August 28th Friends of Jack is holding the first of what will become an annual benefit ride, the Amici di Giacomo (Friends of Jack). The 30-mile ride will be held in White Salmon, Washington and will traverse through the scenic Columbia River Gorge.
This year, the Amici di Giacomo will benefit Jack Toland, but next year the money will go to someone else (or perhaps be spread among several people in need). You can learn more about the ride and how to contribute at FriendsofJack.org.
Jonathan Maus is BikePortland's editor, publisher and founder. Contact him at @jonathan_maus on Twitter, via email at maus.jonathan@gmail.com, or phone/text at 503-706-8804. Also, if you read and appreciate this site, please become a supporter.