We're just a few days away from the start of the 2010 Tour de France and signs of the race have already popped up in downtown Portland.
The window of Bike Gallery's store on SW 10th and Salmon features some cool drawings of Tour de France legends. The art was created by Bike Gallery's on-staff artist Matt Cardinal (who also happens to be co-owner of of local custom bike brand Signal Cycles). I think I know all but one of them. Can you name them all?
(Drawings by Matt Cardinal)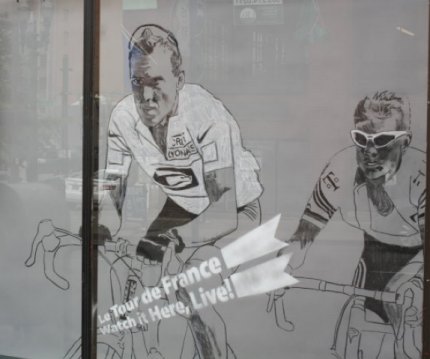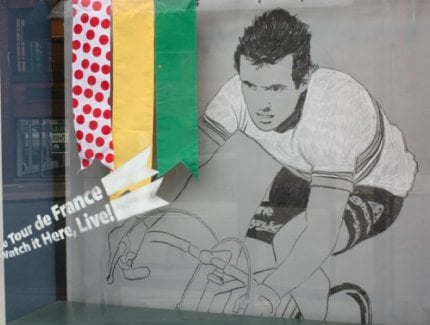 With Lance Armstrong announcing this will be his last ride, the continuing doping sagas, and interest in pro racing at a high point in the U.S., I have a feeling this year's Tour will be one of the biggest ever (not to mention that Bend, Oregon resident Chris Horner will be riding with Lance).
My dream is that some day bike racing has the equivalent of the World Cup of Soccer; but until then, the Tour is the biggest thing we've got.
On that note, there will be a lot of local viewing locations. I'm working on a getting a complete list together. If you are hosting Tour de France viewing parties and/or related events in Portland, please drop us a line so we can include the information in our round up.
Allez!
Contact Jonathan at @jonathan_maus on Twitter, via email at maus.jonathan@gmail.com, or phone/text at 503-706-8804. Also, if you read and appreciate this site, please become a supporter.