Posted by Jonathan Maus (Publisher/Editor) on March 25th, 2010 at 10:02 am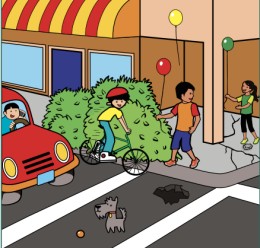 Detail from worksheet on traffic
hazards from K-3 curriculum.
The Bicycle Transportation Alliance, with a grant from the Oregon Safe Routes to School program, has developed a curriculum to teach traffic safety to young people. Called Neighborhood Navigators, the curriculum is available for kindergarten through eighth grade and is available free via download from the BTA's website.
Here's more about the curriculum from the BTA:
"This curriculum focuses on efficient and healthy transportation choices, pedestrian safety, and community and neighborhood design… teaches younger students safe pedestrian behavior and reinforces the benefits of walking and biking. Older students learn how transportation decisions affect personal, environmental, health, and community design. The curriculum includes age-appropriate knowledge and skill practice for each grade."
Neighborhood Navigators was created and developed by Lynne Mutrie, the BTA's former statewide Safe Routes to School coordinator and current owner of Mutrie Consulting.
Go over to the BTA's website to download the curriculum.
Jonathan Maus is BikePortland's editor, publisher and founder. Contact him at @jonathan_maus on Twitter, via email at maus.jonathan@gmail.com, or phone/text at 503-706-8804. Also, if you read and appreciate this site, please become a supporter.