Posted by Jonathan Maus (Publisher/Editor) on November 11th, 2009 at 11:21 pm
AARON HAS BEEN FOUND. He's safe and sound. Details here.
[Please scroll down for latest updates]
Friends of Southeast Portland resident Aaron Tarfman are concerned tonight because he has not returned home for over 24 hours and he has written a poignant "Farewell Letter" on his personal website.
Aaron's roommate Steven Kung says he last saw him on Tuesday. Kung has filed a police report.
Aaron is a dedicated transportation and environmental activist. In a very long and detailed "Departing Letter" on his website, Tarfman shares his depression about the health of our planet and his frustrations that more people aren't doing something about it.
In the final paragraph he writes:
"I believe that life is precious and if a person is reasonably healthy and especially if they have the willingness to do good in the world than every reasonable effort should be made to give them the option to do so. However we have this strange culture in our society to preserve life even when it's so painful that the continuity of life is more torture than gift… De[s]pite my youth, I am in that category and have been for many years. It's obvious that I cannot make a positive contribution to the world and I don't have the stomach to try and convince people to be less destructive and so I would appreciate if you let me go gently into that good night and explore what awaits in that undiscovered country….

I miss all of you in the bike community and wish for you the best of times for the future. May you have some success and keep yourselves healthy and happy. For the rest of the population which either does nothing to improve the world and/or actively contributes to it's destruction, I simply don't care what you think. I leave you to do what you will to the Earth, as long as I don't have to be around to watch the catastrophe."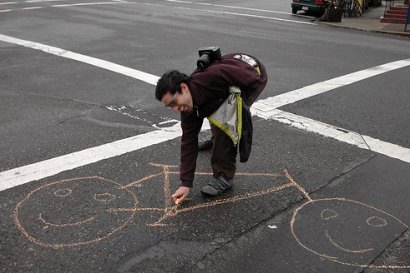 Aaron as many of us know him — with his camera, a smile, and his activism in the streets.
Aaron loves bike touring and being out in nature on two wheels, so perhaps he's just decided to take a sojourn into the wilderness. But the combination of his recent absence and his letter have many of his friends worried (as these postings to Aaron's wall on Facebook attest).
Aaron, if you're out there, please get in touch.
If you've seen Aaron, please contact us and we'll forward you to his friends that are looking for him.
Slideshow with more photos of Aaron:

---
UPDATE, 11/12, 8:35am:
Aaron's roommate and friend Steven Kung provides further details:
Aaron was seen Tuesday morning leaving Brooklyn House eastbound on Brooklyn Street on his Trek carrying a fully packed red/black backpack mounted flat horizontally on his rear rack. I was on top of the roof with contractors and I asked if he is going on a camping trip. He replied he was just dropping something off.
Aaron was seen riding away again eastbound from Brooklyn House on an inexpensive ECT loaner mountain bike, black with green decals, without his helmet and without any other baggage. He was probably wearing a gray or black long sleeve shirt with a gray fleece vest on top, black pants and black high top gym shoes.
We located his mother's phone number in LA. Contacted her. She may be coming up to Pdx to organize a search for him.
His room is tidy and nothing seems out of place, search so far turned up no other letters.
Steven also offered his intuition on the situation:
Aaron wants his message to be heard, but he may not want to be found.
Aaron can survive on very little resources anywhere in this country.
Aaron is highly intelligent such that if he does not want to be found, he may be very successful at that.
I am very worried Aaron might hurt himself either intentionally or unintentionally. At the same time, I sense and hope he will not harm himself.
And here's what Steven says we should do:
Do what you feel in your heart is right.. either help in the search for Aaron, keep him in your thoughts or prayers, or anything else you feel is constructive.
Send Aaron emails to encourage him. Post pictures of what you are doing to improve this world. If Aaron taps into the grid he will appreciate that.
Keep communicating among ourselves, support each other no matter what unfolds.
We'll keep you posted with any further developments.
UPDATE 11/12, 4:58pm:
Here's a flyer that friends have made and are putting up around Portland (download as PDF here):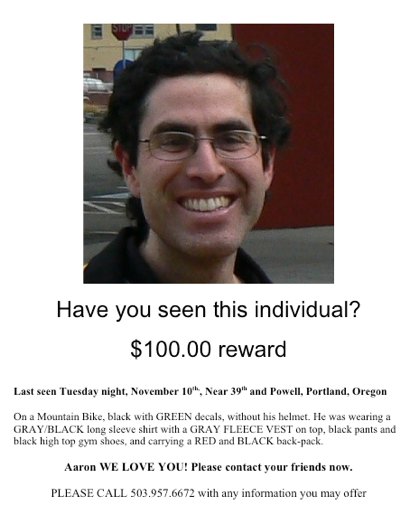 UPDATE 11/13, 7:30am:
Search parties are being formed and heading out toward Estacada this morning. Below are latest details:
We are organizing a search party to look for Aaron on Faraday Rd near Estacada. Faraday Road is a 5-mile car free road south of highwary 224. There will be one search party from the westend of Faraday Road (Search Party one) and a second search party from the eastend of Faraday Road (Search Party two). The west end of Faraday Road is roughly 1.5 miles from the Trimet Bus Stop at SE 4th & Main in Estacada.

There will two search parties heading out.
Search Party one: will leave promptly at 9:00AM (assembly at 8:30 AM) from 4038 SE Brooklyn, Portland, OR

Search Party two: will leave at 11:00AM (assembly at or before 10:30 AM) from 4038 SE Brooklyn, Portland, OR

Each search party is planned to take roughly 5 hours long. Please plan accordingly.

Suggested items to bring:
– bike rack on car and bikes. Faraday road is closed to car traffic and bikes will help the search efforts
– food and snacks
– warm weather gear including rain gear
– flash lights the area is wooded
– GPS, handheld radios, cellphones or other communication devices
– first aid kits
– blankets, warm clothes, handwarmers for Aaron-he is 5'7″ male 140 pounds.
– backpack
– change of clothes for yourself or any outdoor gear you may need

Weather is forecast at 34/43 with 90% chance of rain.

There will be one person coordinating the search parties from the Trimet Bus Stop in Estacada

Locations:
Brooklyn House: map link

Trimet Bus Stop in Estacada:
SE 4th & Main:

Search Party one Faraday Road West:
map link

Search Party two Faraday Road East:
map link


Please call Sugata and Steve for more information.

Please note these Phone Numbers:
Sugata: 765-404-8457
Steven: 503-957-6672
The National Suicide Prevention Lifeline: 1-800-273-TALK (8255)
Jonathan Maus is BikePortland's editor, publisher and founder. Contact him at @jonathan_maus on Twitter, via email at maus.jonathan@gmail.com, or phone/text at 503-706-8804. Also, if you read and appreciate this site, Jonathan hopes you'll become a supporter.