Posted by Elly Blue (Columnist) on October 23rd, 2009 at 12:13 pm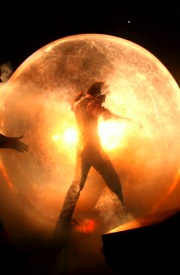 Lips singer Wayne Coyne
in his trademark bubble
(Photo by Flaming Lips)
By now the world has heard that the Flaming Lips were in Portland last month to film naked bikers for a music video for their new album, Embryonic (which incidentally has become the band's first top 10 hit).
The video is now complete, and the band is throwing a screening and dance party this week to thank all the extras (and friends, and fans).
On Wednesday, October 28th, from 8:00pm – 11:00pm at Lolas Room, 1332 W. Burnside. 18 and older only. Party organizer Jillian Kelsheimer Sevick says to wear clothes, and get there early for swag and fun times.
Kelsheimer Sevick also cautions that due to the need to turn many hours of footage into a few minutes of music video, not everyone who showed up for the two days of shooting is visible in the final cut — but urges everyone to come watch the video and confirm your hopes (or fears).
There is also a Facebook group for shoot participants to stay in touch with the band and each other.
Elly Blue has been writing about bicycling and carfree issues for BikePortland.org since 2006. Find her at http://takingthelane.com