Posted by Jonathan Maus (Publisher/Editor) on September 1st, 2009 at 10:58 am
Bike traffic on Broadway Bridge, as seen during the Bike Commute Challenge in September 2008.
(Photo © J. Maus)
Today is the first day of the 2009 Bike Commute Challenge. The event, put together each year by the Bicycle Transportation Alliance (BTA), is a friendly competition between companies throughout Oregon and SW Washington to see who can make the most trips to work by bike.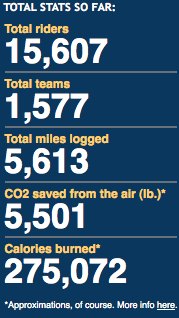 Stats from the BTA's Bike
Commute Challenge website.
In a press release, the BTA says more than 1,000 businesses, non-profits, and public agencies will take part in the competition. Last year, nearly 11,000 individuals logged over 1 million miles by bike. For some, it's a fierce competition for bragging rights, but for many others, the Bike Commute Challenge is an excellent opportunity to try biking to work for the first time.
Each year, thousands of newbies hit the road during the month of September. They're bolstered not only by peer pressure from co-workers, but from a series of Bike Commute 101 workshops taught by the BTA leading up to and throughout the event.
This year, the City's Bureau of Transportation has unveiled several new bikeway facilities just in time to help those new commuters feel safer on the roads.
For more info, check out BikeCommuteChallenge.com.
Jonathan Maus is BikePortland's editor, publisher and founder. Contact him at @jonathan_maus on Twitter, via email at maus.jonathan@gmail.com, or phone/text at 503-706-8804. Also, if you read and appreciate this site, please become a supporter.