Posted by Jonathan Maus (Publisher/Editor) on July 15th, 2009 at 4:05 pm
The Columbian newspaper is reporting that Clark County Commissioners want staff to look into a plan to create a bicycle licensing fee.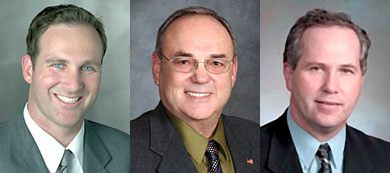 L to R: Clark County Commissioners Steve Stuart, Tom Mielke, and Marc Boldt.

Here's a snip from reporter Michael Andersen's story:
Saying they're short on cash for new bike lanes and trails, Clark County's commissioners said Wednesday that they're willing to consider charging to license bicycles outside city limits.

"As a bicyclist, I would pay a licensing fee if I had better trail access," Commissioner Steve Stuart said in a work session on bicycle and pedestrian routes in the county. "We license our dogs. You license your car. Why wouldn't you license your bikes?

Commissioners Marc Boldt and Tom Mielke agreed, asking to set up a new work session on the issue.

"It's a good funding source," Boldt said.
After Andersen called me for comment on the story, I immediately inquired with Clark County to learn more about the context of how the idea came up.
I spoke with Laurie Nicholson, the project manager of the Clark County Bike and Pedestrian Plan. She confirmed for me that the comments reported by Andersen came up during a work session for that plan. Nicholson said it is only an idea at this point and stressed that there is no proposal on the table at this time (given this, I was surprised The Columbian would do a story on it already).
"During our discussion, Commissioner Stuart inquired about whether or not we'd looked into raising money through some sort of bike license. I said we'd look into it and report back." Nicholson plans to take the idea to the Bicycle Advisory Committee when they meet next Tuesday (meeting details below).
This will be interesting to follow. The idea to license bicycles to raise funds came up in Salem this session and was met with vehement (some said a tad too vehement) opposition. The BTA formally opposed the idea, and ultimately legislators did not deem it a high enough priority to spend time on.
Read the Columbian article (they're expected to publish a more thorough version of their story by tomorrow).
If you live/ride/work in Clark County and want to keep tabs on how/if this idea progresses, consider showing up to next week's Bike Advisory Committee meeting:
Clark County Bicycle Advisory Committee Meeting
7/21, at 6:00 p.m.
Conference Room 433 (Fourth Floor) at the Public Service Center (1300 Franklin Street, Vancouver, WA).