One of Portland's customized
bike lane markings.
-Slideshow below-
(Photo: City of Portland)
2009 marks the 10th anniversary of a proud Portland tradition: our creatively modified bike lane pavement markings or what I like to call, "bike lane guys".
The "unlikely cycling hero" who started the tradition in 1999 — according to Portlander Jim Waigand, who has documented the phenomenon since 2003 — is former City employee Todd Roberts. In an article published in VeloVision Magazine in September 2003, Waigand uncovered the fascinating story behind the practice. (I've uploaded that article as a PDF with permission from the publisher. You can download it here.)
According to Waigand, Roberts (who thinks cycling is "boring as hell") said he did it at first because he was "just screwin' with my boss, seeing what I could get away with." Roberts had a triangular piece of thermoplastic material left over from a job and made it into a hat. His supervisor said "looks good," and the tradition was born.
These days, Kirstin Byer is the City's chief of pavement markings. She was featured in a 2005 documentary about the bike lane characters created by Portlander Joe Biel (of Microcosm Publishing fame) called Martinis in the Bike Lane.
Jim Waigand
(Photo © J. Maus)
I met Waigand several years ago in his Northeast Portland home. He documents the markings by snapping photos and keeping an updated spreadsheet of their location. The markings are constantly being paved over, so Waigand's photos are a valuable part of Portland's urban lore.
I've scanned several of Waigand's photos, along with a few from the City of Portland archives which you can see below. As Waigand said in his 2003 VeloVision article, "these Portland bike lane signs add a welcome touch of humanity." I agree, and I hope it's a tradition that continues for at least another 10 years.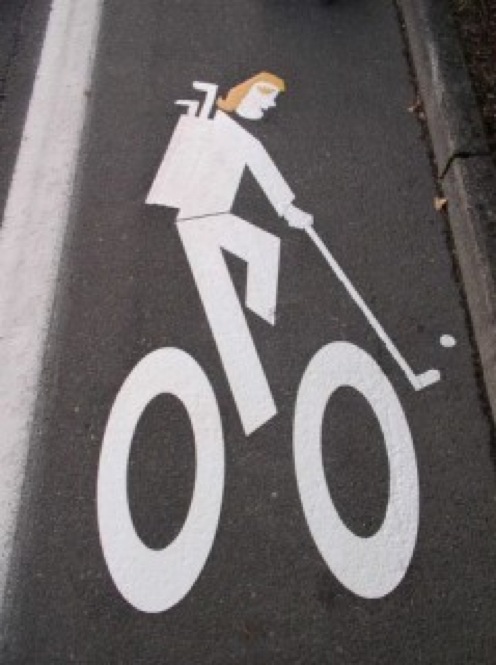 — Jonathan Maus, (503) 706-8804 – jonathan@bikeportland.org
Our work is supported by subscribers. Please become one today.