Bike polo is a time-honored tradition here in Portland and our very own Axles of Evil is a team/club full of some of the most skilled and respected players anywhere.
Their home base is the tennis courts at Alberta Park in Northeast Portland, and now they've taken their game onto the grass. Below is an article on this new version of bike polo from local legend Dabby McCrashalot.
---
A few local bike polo players want
you to give grass polo a try.
(Photos courtesy of Dabby)
Tired of getting hurt playing those Axles Of Evil guys? Wish there was another type of Bike Polo around town? Have a little bit of angst left over from your work day?
Well, we have news for you. Grass Polo is coming to Northeast Portland!

We will meet at or around 6:30, Thursday nights, at the corner of MLK and NE Alberta. There will be a few bikes available to ride at times if you do not have one. There are also some mallets to be shared.
We do highly encourage bringing your own Mt. Bike/grass bike of any sort. This will further your progression in the game as having your own equipment is always the best way to go. It is fairly easy to switch the brakes for polo usage if you have matching levers, and we will be happy to assist you in doing so.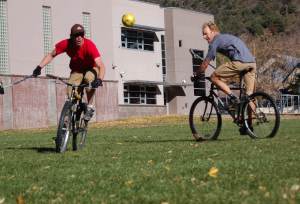 Mallets are of the basic ski pole, gas pipe/wood variety. Come try ours, then run home to make your own!
Beverages and snacks are encouraged, and hoped for. Please bring a container (Nalgene, water bottle, etc.) for your drink of choice.
Bike Polo has been played since about 1896, when the British sent a load of bikes to troops in India. The local stable hands, who generally did not have ponies of their own, quickly adapted the game of Horse Polo to these "fancy peddlin' horses".
Here in Portland, our "bastardized" style of the original game has spread Worldwide, and is every bit as, if not more popular, than the "Gentleman's Game" of old.
Hope to see you this Thursday on the Grass!