[Updated 12/14, 11:19am]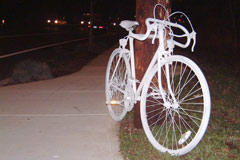 A ghost bike has gone up near the crash site.
(Photo: Jill N.)
The Gresham Police have identified the man who was killed on Powell Blvd. yesterday.
According to Sgt. Claudio Grandjean of the Gresham Police, the victim was 72 year-old Jan Jansen Hendrik.
At this time, Grandjean says all the evidence they have shows that Mr. Hendrik appeared to veer out into motor vehicle traffic for an unknown reason. He says this is based on a combination of physical evidence at the scene and eyewitness accounts.
He adds that currently, investigators are "trying to unravel whether the driver of the vehicle was speeding or not."
However, since the posted speed was 40 miles per hour, it's highly unlikely the motor vehicle could have stopped in time to avoid the collision.
Sgt. Grandjean is speaking with the officers on the case this morning and an update on the investigation should be available soon (see latest update below).
Volunteers erected a ghost bike near the scene of the collision last night.
---
UPDATE – 11:18am: Here is the latest information just released by the Gresham PD:
Police are continuing to evaluate the physical evidence and witness statements but have learned this so far:

HENDRIK was riding a bicycle eastbound on Powell near W. Powell Loop. He was traveling in the bike lane, on the south side of Powell. JOSH D ADEN, 25, also of Gresham, was driving a PT Cruiser, also eastbound on Powell. Witnesses say HENDRIK suddenly veered in front of the vehicle driven by ADEN, causing ADEN to hit the bicyclist. ADEN remained at the scene and has cooperated in the investigation. HENDRIK was not wearing a helmet. No citations have been issued or arrests made, but the investigation is continuing.
Contact Jonathan at @jonathan_maus on Twitter, via email at maus.jonathan@gmail.com, or phone/text at 503-706-8804. Also, if you read and appreciate this site, please become a supporter.