Posted on September 19th, 2009 at 12:37 pm.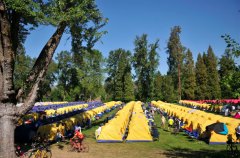 The Cycle Oregon camp at
Riverside Park in Grants Pass.
(Photo © J. Maus)
BikePortland has confirmed that a man died in his tent Thursday night in Grants Pass while participating in the Cycle Oregon ride.
Someone on the ride first told us about the situation Friday night and then confirmed the death with official EMTs. This morning, I spoke with Cycle Oregon ride director Jerry Norquist. Norquist confirmed that the death occurred on Thursday and that the Grants Pass Police Department is doing an investigation.
[more…]