Posted by Michael Andersen (News Editor) on May 6th, 2014 at 3:22 pm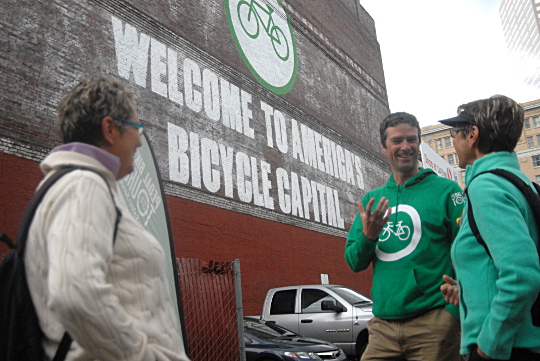 Pedal Bike Tours owner Todd Roll and two tourists with the mural his company created in 2012. The lettering is due to be taken down Thursday due to a city code enforcement decision.
(Photo by M.Andersen/BikePortland)
A city whose sign code is intended to prevent advertising eyesores and a local shop owner who's developed "mixed feelings" about his project have settled on the removal, this Thursday, of one of downtown Portland's newest icons.
That's when workers are scheduled to remove the two-year-old, 45-foot-tall declaration that the city is "America's bicycle capital." Pedal Bike Tours, the local rental and tour company that painted the mural in 2012 based on one of their T-shirt designs, hired them after conceding a compromise in a long negotiation with the city's code enforcement office.
"Photograph it while you can," Pedal Bike Tours owner Todd Roll said in an interview Tuesday. "It's out of here."
Thursday's action will cap a quiet six-month-long back-and-forth between Roll and city code enforcement staff over the mural that overlooks the parking lot between Southwest 2nd and 3rd Avenues just south of Burnside Street. It's larger than the code allows for a building of that size, unless the space could be proven to have been used for advertising before the code was passed.
The terms of their deal: Roll will be allowed enough space to leave up the bike-in-circle icon that is part of his business's logo. All the words, Roll says, will disappear.
"If people don't like it and I've spent this amount of money, I'm just going to make it pure advertising," Roll said.
Roll said that like almost all city code enforcement actions, this one was triggered by a complaint. He's not sure from whom.
Roll said that because the letters of what seems to be a very old mural are still barely visible on the wall, he had hoped the sign would be grandfathered into legality when he spent $2500 to have the piece installed in 2012. But he decided not to verify that with the city.
"I figured it was better to ask for forgiveness than permission, because I figured permission would be denied," Roll said. "And I'm not sorry, either. I'll tell you, I cannot walk out of this door in any weather — in rain, sleet or snow — and not see a tourist taking a picture of that sign. And that is going to go away now. Now they can take a picture of that Vic Alfonso sign saying that cars are cool."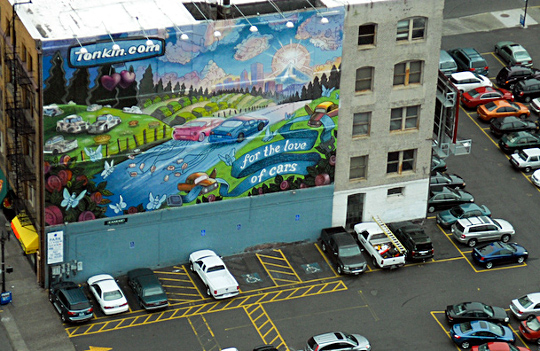 "For the love of cars": a longtime mural at SW 2nd and Washington in downtown Portland.
(Photo by J.Maus/BikePortland)
"I figured the city would love it," Roll said. "The Timbers did a video right in front. Nike's been here to do it. We get film crews here all the time."
Last month, when Men's Health named Portland the "fittest city in America," the magazine chose Roll's mural as its lead image for Portlanders' habit to "two-wheel it at every opportunity."
Last year, Jonathan and I used the image in a post exploring the factors behind Portland's 2002-2008 bike boom. We wanted argued that part of Portland's bike success has been that people looking for good biking have chosen to move here.
The mural has drawn criticism, too. Only yesterday, it took symbolic significance in a Vancouver BC writer's argument that Portland is "resting on its laurels" as a bike-friendly city.
"Of the things that are unique in Portland, bicycles and good food and good quality of life are paramount," Roll said. "And I just thought that was worth celebrating, especially in a downtrodden part of town."
"I didn't realize it was going to be controversial," he added.
Email This Post