Posted by Michael Andersen (News Editor) on April 2nd, 2014 at 10:07 am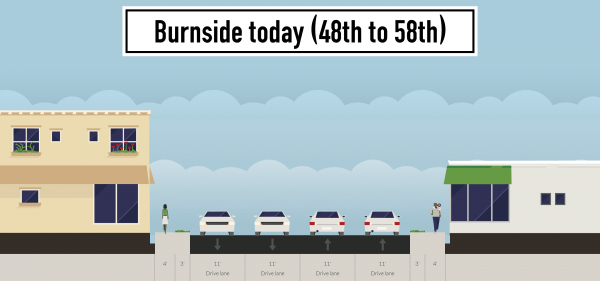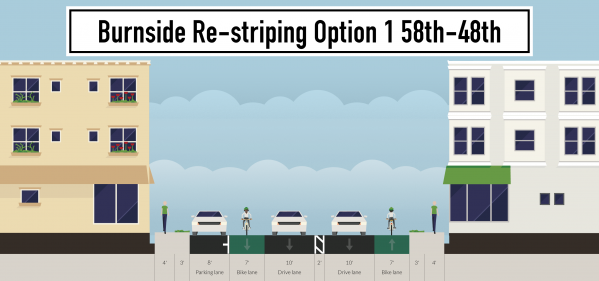 Renderings created with
Streetmix
by BikePortland (top) and Terry Dublinski (bottom).
A neighborhood transportation activist backed by the North Tabor Neighborhood Association is looking for volunteers to help him research the effects of adding buffered or parking-protected bike lanes on Burnside.
"If it gets high-quality bike lanes, Burnside is the street that has most uptick of single-occupancy [vehicles] moving to bikes."
— Terry Dublinksi, co-chair of North Tabor Neighborhood Association transportation committee
"Burnside, in the Metro active transportation plan, is the high-end bicycle parkway connector between East Portland and downtown," Terry Dublinski, co-chair of North Tabor's transportation committee, said at a meeting Tuesday night. If it gets high-quality bike lanes, Dublinski said, "Burnside is the street that has most uptick of single-occupancy moving to bikes. Glisan has all those onramps, and Stark and Belmont are too steep."
A recent city lunch-and-learn presentation on those Metro findings inspired Dublinski, who lives on Burnside, to start gathering local support for a general restriping of Burnside that he says would also calm traffic near Mount Tabor Middle School and greatly improve Burnside crossings for people heading to Mount Tabor on bike or foot.
In the short term, he's already gotten tentative city support for new bike lanes between 71st and 68th avenue. But Dublinski also hopes to make the case for bike lanes west to 48th, replacing "pro-tem" parking lanes that are sometimes used for parking and sometimes for travel. In the long run, he hopes to find a way to reduce traffic at the intersection of 47th and Burnside so the lanes can continue west to 41st.
Dublinski says people rarely use the "pro-tem" auto parking today, in part because speeds on Burnside are so high and off-peak traffic volumes are relatively low.
"Most of the time, all four lanes are open, so people just speed down the mountain," Dublinski said. He's already gotten signatures from nine of 10 people on his own Burnside-facing block, saying they'd be willing to forfeit auto parking on Burnside in exchange for safety improvements, and hopes to gather more.
Email This Post