Posted by Michael Andersen (News Editor) on April 1st, 2014 at 4:17 pm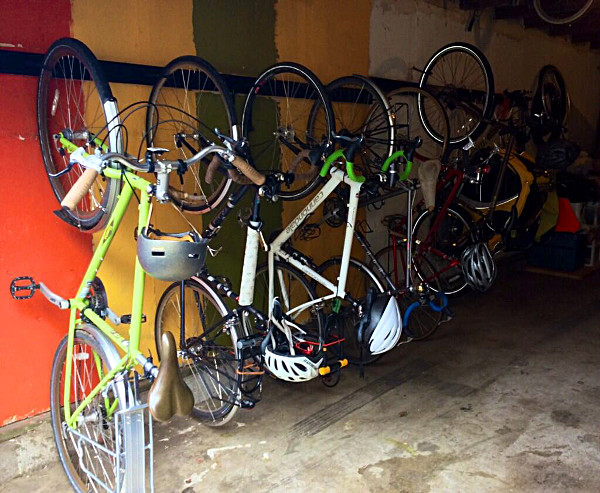 Portlanders have created some ingenious ways to store and secure their bicycles at home.
Portlanders have known for years that we're blessed with some of the best public and commercial bike parking in the country. But our private residential bike parking goes unsung, simply because it's harder to photograph.
Last week, we asked readers to share shots of their residential bike parking setups, and got a big response. Unsurprisingly, some folks have put in some pretty impressive efforts. I've collected a gallery of noteworthy ones below.
Start with image (1) at the top from Brandon, whose "six-adult household in Lents" makes room on an interior wall for six bikes, one trailer and a bike pump.
And here's what looks like an apartment setup (2), from Mike in Southwest Portland. Notice the precise placement of the red hooks on the ceiling joist: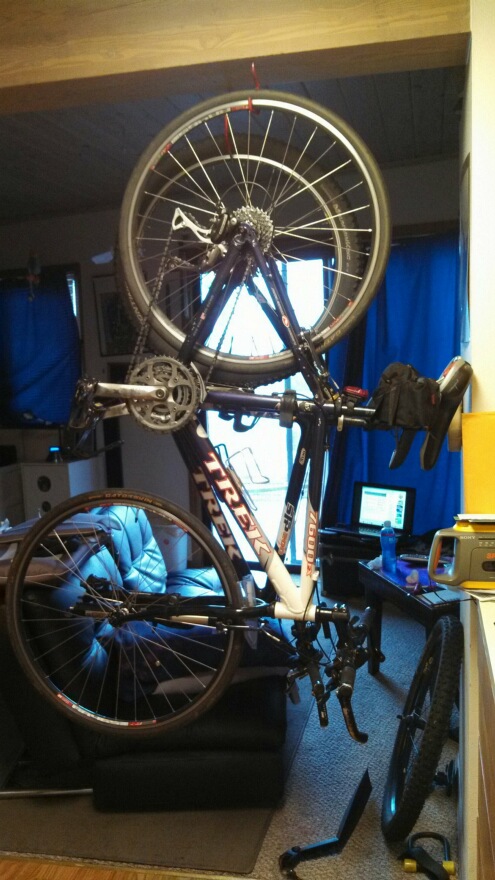 3) Here's a creative system using wood, eye hooks, a U-lock and a cable lock. "Not a sketchy area but not taking risks," writes Jason. "Obviously not bulletproof, but a good enough deterrent":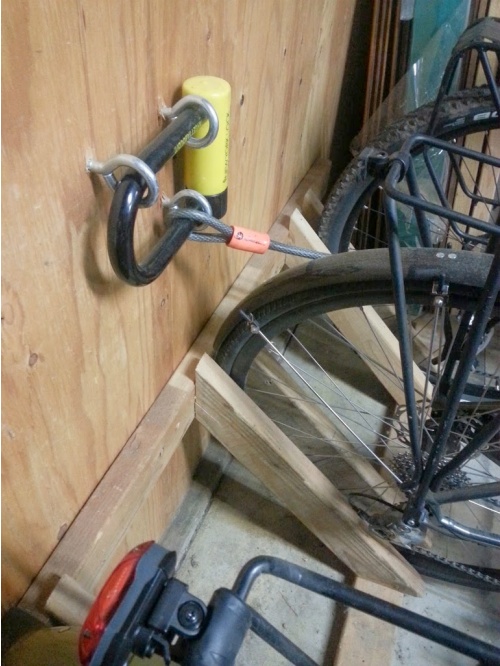 4) This submission from Kari is a two-parter: one with the door to her family's terrific bike storage area closed and one with it open. "We don't have a garage, and I find lugging a bike up and down stairs to be a pain, so we had a roof put on between the house and the fence to create a covered storage area for our various bikes: one kid's bike, a balance bike, 2-4 regular bikes depending on the day, and a cargo trike," she writes. "There are two 'bike racks' inside that we can lock to, and we keep the front gate locked, too." It looks as if the result offers access from both front and back yards. Don't miss the sweet tile work, either: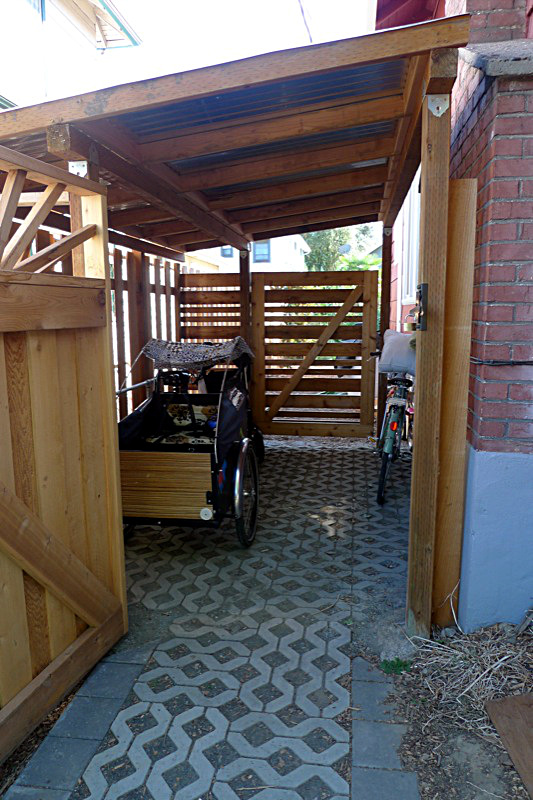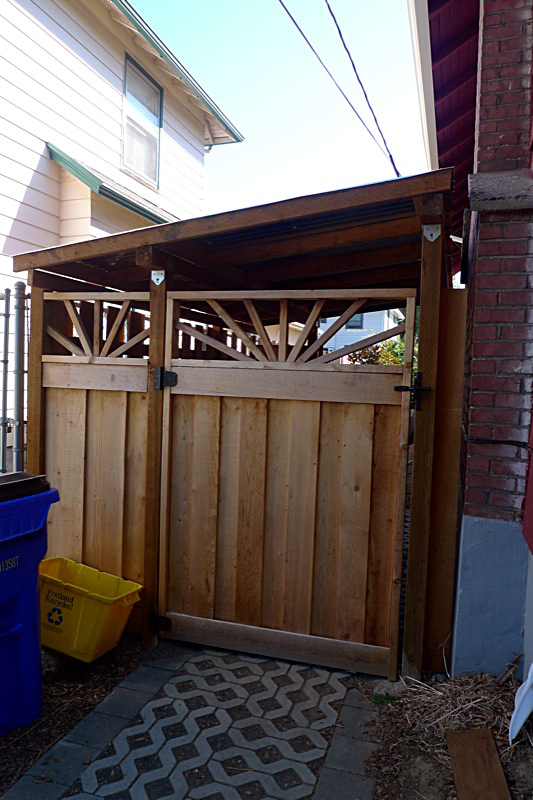 5) "I upcycled an old handle from a cart used to push semi trailer brake drums around and painted it bright green to make my own staple," writes Mike from Northeast Portland. "A couple bags of cement mix later, and I can sleep at night":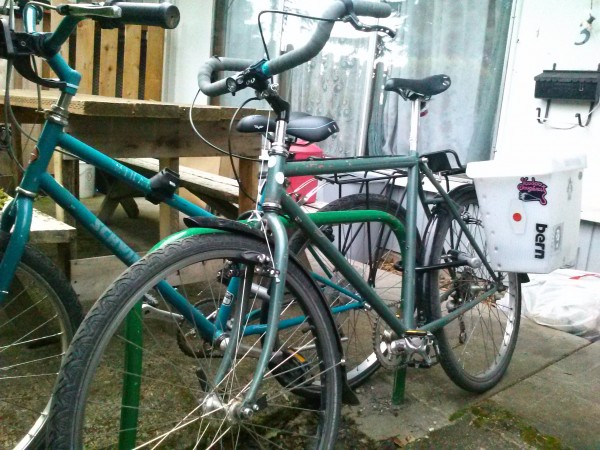 6) Here's a similar setup made from scratch. "I designed the rack, and had a friend at work build it," writes Scott: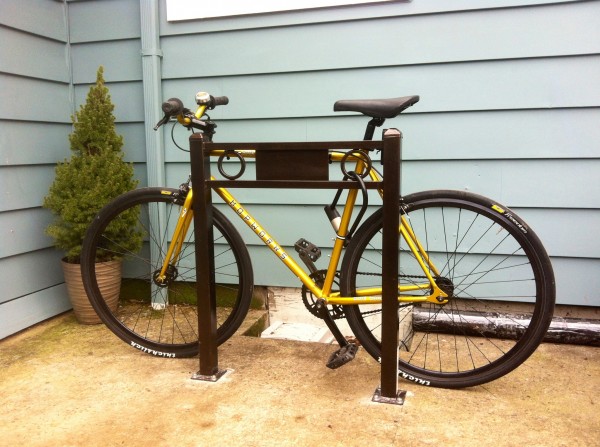 7) Timo writes in that he has "parking for both the home and guest bikes. Old falling down garage-type shed was removed and new shed for bike storage and maintenance installed; dumpstered street-seating railing from formerly iconic downtown restaurant used outside." You can click Timo's photo to get a closer look at the totally unique bike rack, presumably full of memories for owners of the former Greek Cuisina:
Email This Post