Posted by Michael Andersen (News Editor) on January 24th, 2014 at 4:37 pm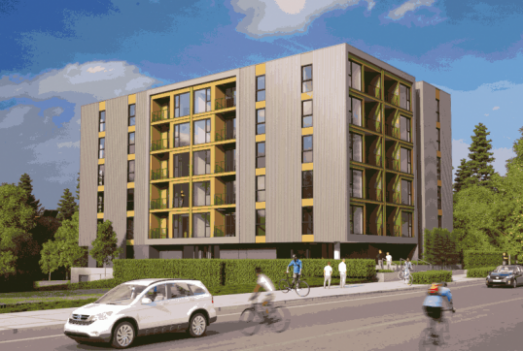 A rendering of Overlook Park Apartments, which added an extra story, 17-20 auto parking spaces and almost 50 bike parking spaces in response to neighborhood concerns.
(Image:
TVA Architects
)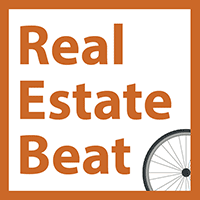 Nine months after Portland began requiring on-site auto parking to be included in all large apartment buildings, one of the first test cases is about to break ground.
Overlook Park Apartments, which will start construction in April at the northeast corner of Overlook Park in North Portland, has been completely redesigned after the developer switched architects and scrapped a plan that had his neighbors up in arms over its lack of on-site auto parking.
The resulting building will have paid auto parking, larger rooms, three fewer units, higher rents and half again as much bike parking: 108 indoor spaces for 63 units, with an on-site bike service stand and built-in tools.
"I think all in all it was a blessing in disguise, because I think all in all it's way better than it was before," developer Vic Remmers of Everett Custom Homes said in an interview. "I think the space right now is going to be a lot more valuable than it was."
The six-story building by Bob Thompson of TVA Architects, due to open in spring 2015, will have 17 to 20 auto parking spaces on site, Remmers said. Residents will have to pay if they want to use them; he's not yet sure how much.
Rents, he said, will be in the $1,000 to $2,000 range depending on unit size. As reported in October by The Oregonian, the units will now range from 528-square-foot studios to 982-square-foot two-bedrooms, with more than half of the units one-bedrooms.
Email This Post