Posted by Michael Andersen (News Editor) on September 20th, 2013 at 3:11 pm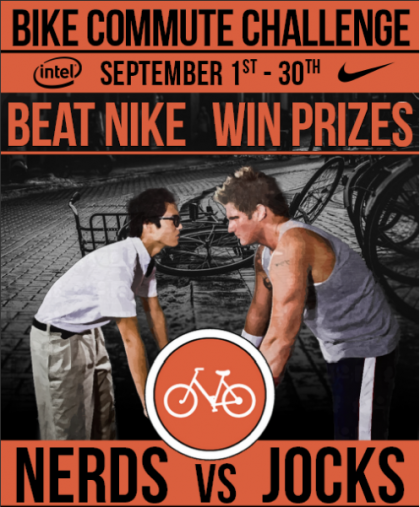 A digital flier by the competitive geeks at Intel.
In Oregon's epic battle of nerds versus jocks, the nerds are winning.
The gearheads, the nurses and the bureaucrats are on their tail, though.
With six weekdays left in the BTA's annual Bike Commute Challenge, Intel employees have logged 16,117 miles of biking to lead the contest in total travel, while Nike employees are in second place across the region with 14,529.
Close behind are Daimler Trucks North America (13,880 miles), Oregon Health and Science University (13,679) and the City of Portland (13,348).
Of course, there are lots of ways to "win" the Bike Commute Challenge (as the nerds would no doubt point out if they weren't in the lead). For example, you can count by total number of bike trips:
City of Portland (1346)
OHSU (1267)
Intel (1165)
Multnomah County (1086)
Nike (981)
Email This Post