Posted by Jonathan Maus (Publisher/Editor) on August 24th, 2012 at 12:03 pm
Another Portland business has realized the awesome role cargo bikes can play in their bottom line (and their brand/reputation). Sparky's Pizza on Belmont (they have seven other locations) now has a fully decked-out Madsen cargo bike as one of it's delivery vehicles...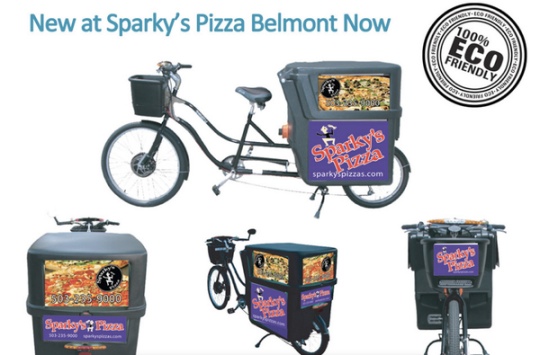 And of course Sparky's is far from the only pizza joint in town that uses bikes. Old Town Pizza (a fantastic BikePortland advertiser!) uses bakfiets-style bikes to deliver pizza and beer. Pizza Schmizza has a cycle-truck at their downtown location...And I'm sure there are others.
Hat tip to our friend and cargo bike lover/promoter/advocate Ethan Jewett for finding this.
Email This Post
Possibly related posts