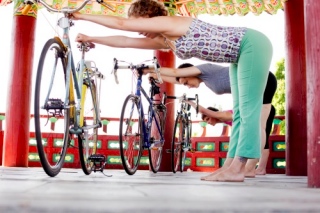 Pedal-inspired poses.
(Photo:
Althea
)
This is a guest post by Seattle-based writer and yoga instructor Kelli Refer. Kelli specializes in yoga poses for people who bike, blogs about it at Yoga For Bikers, and is the author of the new zine (published by none other than Elly Blue's Taking the Lane Media), Pedal, Stretch, Breathe.
—
Usually when we hit a wall it's a bad thing. But after a long bike ride, the wall is your friend*.
Taking time to recover after a long ride is an important part of self care for cyclists. You let your muscles relax after strenuous riding to build strength and replenish your energy for the ride tomorrow. This practice is called an active recovery. You may already know Shavasana, the corpse pose — which is how you end each yoga session, by laying flat on your back and relaxing into the floor.
Here are three of my favorite restorative poses for cyclists: