by Jonathan Maus (Publisher/Editor) on February 9th, 2016 at 11:20 am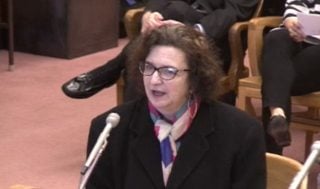 Julia Corkett's son had his leg severed by a man who
made a dangerous left turn. She testified about it
in Salem yesterday.
A man's decision to make a dangerous left turn in front of Alistair Corkett back in May led to a horrific outcome. The 22 year-old's leg was severed from his body. Barry Allen, the man who was at fault for Corkett's life-changing injury, was only given a traffic ticket.
If Corkett had died in the collision, the Multnomah County District Attorney's office would have pursued criminal charges which would not only have provided some level of justice for the community but would have allowed Corkett's family to seek restitution from the state. However, because Corkett "only" suffered an injury, the DA did not pursue criminal charges.
Back in October at a BikePortland event that was inspired by Corkett's case, Multnomah County DA Rod Underhill did not mince words when expressing his frustration. "It pissed me off. I'm angry. It just doesn't seem right. We need to change the law."
[Read more…]