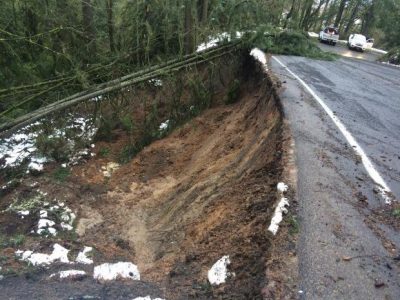 Multnomah County issued advisories for two roads in the west hills that are popular with local riders.
They've released a date for when NW Newberry will be fixed and re-opened. And they've announced a new, upcoming closure of the west side of NW Germantown.
Winter storms pummeled NW Newberry Road into submission, causing a major landslide about a half-mile up from Highway 30. The landslide caused the pavement of the northern (uphill) lane to completely split apart and fall down a hill. As a result, Multnomah County closed the road on January 18th. Concrete jersey barriers were placed across the road in both directions. While the road is technically closed, bicycle riders have continued to use it by going around the barriers to enjoy a quiet and safe, carfree road.
At a recent public meeting, County Commissioner Jessica Vega Pederson said a federal grant has helped with the repair project. Yesterday, the County issued a statement saying they've begun working on a retaining wall needed to support the new road. Construction is set to begin in late spring 2018 and the road should reopen to all users by late summer/early fall of the same year.