by Michael Andersen (Contributor) on September 30th, 2014 at 11:31 am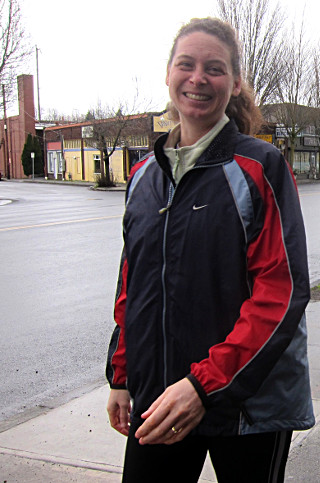 Cathy Hastie, 1969-2014: lifelong Portlander, self-powered
commuter, daughter, wife, mom and (for one constantly
interesting year) BikePortland's lifestyle columnist.
(Photo: M.Andersen)
Publisher's note: Cathy Hastie, a regular columnist here on BikePortland for the last year, passed away yesterday after a fight with cancer.
——
The email arrived with a chime at 9:16 in the morning.
"I have been wanting to be more involved in something I believe in and couldn't quite decide what, until I saw your publication mentioned in Street Roots. Do you need articles? editing? How can I be useful (without dedicating my entire life to your cause?)"
That was two and a half years ago. I was trying to heave my odd little magazine about low-car life from a one-person project into a team production, and generally saying yes to every offer available. So I and the woman, whose name was Cathy Hastie, scheduled a Sunday brainstorm at the Starbucks in Hollywood.