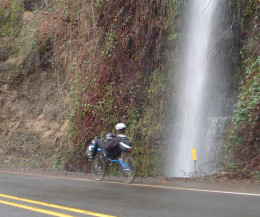 Riding near Corbett is beautiful;
but some locals would rather you didn't.
(Photo © J. Maus)
A recent reader email shared an important perspective from another front in the battle for bike safety on rural roads. If you thought these issues were limited to Portland's West Hills, rural Washington County, and Sauvie Island — think again.
Below is the letter, which comes from Troutdale resident Russell K:
Are Bicycle Riders Safe in Corbett? (Or on the Old Columbia River Highway?)

I live in Troutdale, OR. One of best things about life here are the amazing bicycle rides that I can do from my front door. Troutdale being right at the mouth of the Columbia River Gorge has immediate access to rides with stunning scenery and challenging hills.