Townhomes, like these on SE Ankeny, are currently the most common middle ground between apartments and single-family homes. Some neighborhood leaders want Portland to provide more options for moderate levels of density.
(Photo: M.Andersen/BikePortland)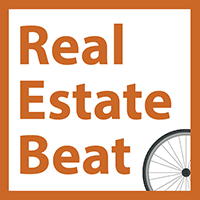 A slate of ideas for increasing Portland's housing supply with fewer visual changes to its central-city neighborhoods is getting warm reviews from influential neighborhood association leaders.
The list of policy proposals, compiled by local indie developer Eli Spevak last month after a conversation with Tamara DeRidder of the Rose City Park Neighborhood Association, includes concepts such as legalizing internal divisions of existing houses and scaling transportation, sewer and parks fees based on home size.
The general theme of the proposals: allowing more housing in Portland that offers more density than single-family houses but less than four-story apartment buildings.