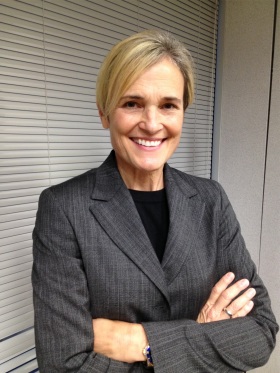 Gail Shibley
(Photo: Hales campaign)
Mayor-elect Charlie Hales has chosen Gail Shibley to be his chief of staff. Shibley has a very impressive background of public service ranging from positions at the city, state, and federal levels. I have not met Shibley, but judging from buzz I'm hearing and from local media reaction to the news, it seems she's well-respected and very qualified.
If you care about transportation reform in Portland — and the role bicycling should play in it — you have good reason to be excited about Hales' pick. Shibley is a former staffer at the Portland Bureau of Transportation where she served under then Transportation Commissioner (now Congressman) Earl Blumenauer from 1991-1996. At PBOT, Shibley worked as spokesperson and program manager. In 2001, Shibley worked as director of external communications for the Federal Highway Administration. Since 2003, Shibley has held the title of Sr. Environmental Health Advisor & Public Health Administrator for the state-run Oregon Health Authority.