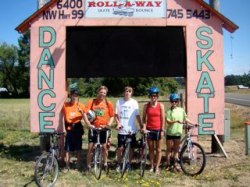 Kurmaskie (second from left) and Camp
Creative participants on a recent trip.
(Photo: Camp Creative)
On Friday, Portland Parks & Recreation announced their selection of non-profit Ethos, Inc. to occupy and manage the Interstate Firehouse Cultural Center (IFCC) building at 5340 N. Interstate Avenue.
As I reported back in April, Ethos founder Charles Lewis has partnered up with local author Joe "Metal Cowboy" Kurmaskie to include bike-related programs into their new offerings at the IFCC.