[Back to Artist's page]
[Back to Event page]
Artist info: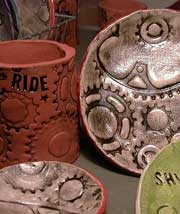 James and Amy DeRosso bring you a selection of ceramic plates imprinted with various bike gears and chains. All of their plates are food safe and made of durable stonewear.
Also available are bicycle inspired terra-cotta pots, a great gift for the cyclist/gardener!
James and Amy DeRosso live and create in lower S.E. Portland with their children, Lily and Aidan. We ride our bikes all over town, sometimes dressed as clowns! James and Aidan like to pop wheelies and attempt other bone crunching stunts, while Lily and Amy prefer the speed and style of their custom ten speed cruisers.