With the Enhanced Transit Corridors (ETC) plan freshly adopted by City Council, the second (of three) Central City in Motion online open houses in the books, and TriMet seeking input on their Division Transit Project — now is a good time to talk about what makes good bus station design.
Earlier this month as part of Pedalpalooza, the Portland Bus Lane Project and BikeLoudPDX hosted a very wonky bus and bike lane ride with help from Portland Bureau of Transportation Planner Nick Falbo.
PBOT includes a variety of new tools in their ETC plan; but not all of them play equally well with bicycle users. We wanted to get our hands dirty and learn more about what types of stations we currently have — and how future designs could be better. About 30 people showed up for the ride to learn and share what they know about bus stop designs. Here are some takeaways:

The ride started on the East end of the Burnside Bridge. This corridor has a high volume of bike, bus and auto users. At transit stops, bus operators pull into the bike lane and people biking either have to go around the bus into traffic, or queue behind the bus and wait for it to get rolling again. This design is typical around the city, but it creates unncessary conflict. A bus stop with a curb extension is one of the tools recommended in the ETC, but the design creates limitations for re-organizing this space without more significant construction cost. We noted that currently East Burnside isn't slated for bicycle upgrades via the Central City in Motion project, so it's unlikely any changes will be made here in the near-term.
Next the ride went to the new protected bike facility on SE Morrison St. This street was upgraded last October with a protected bike lane. This is an example of a pro-time lane (one of the tools in the ETC toolbox). At non-peak hours the right lane is used as parking and is converted to a bus only lane during rush hour. Buses still pull all the way to the curb to access the bus stop which reduces the protected section of the bike lane. This is an upgrade from the bike lane on Burnside, but still creates conflicts where buses and bikes weave around each other. As we upgrade more bike facilities to be protected, we could be seeing more of this design as a retrofit scenario. One suggestion to improve this corridor was to move the pro-time lane to the adjacent one (there are still 3 auto lanes on this street), and create a full time parking lane with a floating transit island.
The next bus stop we looked at was the unique design on the Hawthorne Bridge viaduct. It consists of an at-grade bike lane (at same level as sidewalk) and bus loading zone marked by paint that separates transit and bicycle users. This design is most similar to the new step-out zones being proposed on the Division Transit Project. Lines indicate different zones for people walking and biking, though the bike lane is quite narrow here (around four feet), and people biking move quickly along this section of the bridge. The step-out zone is eight feet wide. People who ride this bus line said the worst conflict times are getting off the bus and stepping out onto the platform, unsure if a bike was around the corner. Since everything is at the same grade, it's easy for both people biking and walking to be in the wrong zone without even realizing it.
We then continued west on the bridge and stopped to discuss the bus stop on SW Main between 1st and 2nd. Last fall this intersection generated a bit of controversy when a $500,000 PBOT project repaved and repainted the lanes without looking into a safer configuration. After exiting the Hawthorne Bridge, buses and people riding bikes are forced to switch lanes. Activists from Portland Bus Lane Project tried to intervene, pointing out that the expensive concrete pad for the bus would preclude a future lane reconfiguration. We used this street as a template for a sketching workshop and had everyone come with their own versions of a design that would work better.
Of all the stations we looked at, SW Moody had the best designs. There are three different styles of floating transit islands being used as Moody goes through the South Waterfront District.
The first transit island at SW Meade is all at the same level, similar to the stop on the Hawthorne Bridge. Green paint, marked crossings, and a fence to channel people walking to the crosswalks help make this intersection more predictable for all users. Still, we could see people occasionally walking or wandering into the bike lane.
The second island at SW Gibbs is grade-separated and raises up to sidewalk level at the crosswalks. The height difference is just a few inches but it gives a strong signal to your feet when crossing from one zone to another.
The last stop was at the transit island on SW Gaines. The taller curb height and vertical fence on one side make this lane feel narrower than it is (just shy of five feet), and results in a narrower overall island than the other two. This station also has some odd material choices: The bike lane is concrete (similar to the island) and the sidewalk is asphalt. The island is in line with the bike lane, and when it was originally installed people biking would ride up onto the transit island and find a hard curb at the end of the platform. Green paint helps direct bikes behind the station now, which seems to be a solid improvement. It's worth noting there are not many destinations on the west side of Moody Ave, likely reducing the number of user interactions compared with a transit stop downtown.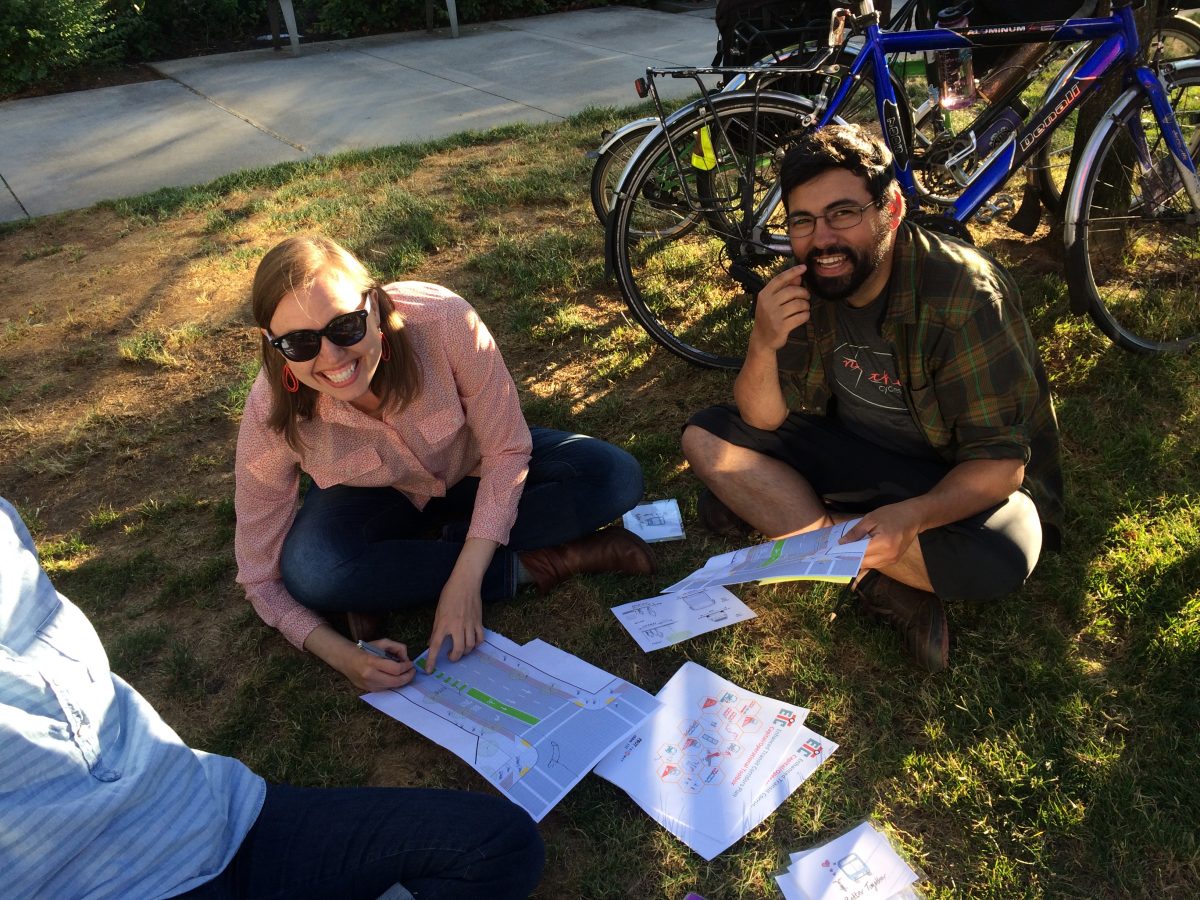 After all the stops, we stretched out in Caruthers Park and had another sketching session where we tried to create stop designs that would have the fewest possible conflicts between bus riders and bicycle riders.
As advocates, we're often told there isn't room to accommodate both transit and bike facilities on the same street, while retaining multiple lanes for auto use. One thing we learned first-hand on this ride is that these kind of trade-offs are often more of a political problem than a geometry problem.
It was great to see so many people interested in making our streets a better place, and hope there will be new examples of low stress bike/transit corridors when we do this ride next Pedalpalooza!
— Catie Gould (@citizen_cate) and Emily Guise (@eguise)
Never miss a story. Sign-up for the daily BP Headlines email.
BikePortland needs your support.