Hank's Dairy, Les Femmes, House of Sound, Fred Hampton's Health Clinic — these are all important parts of the history of North Williams Avenue that have been all but erased today.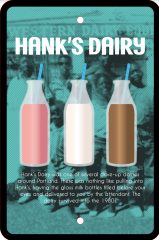 The 'Black Williams Project' — which will be unveiled this Saturday June 3rd — aims to re-insert these places and the people who made them, back into our consciousness.
The project is one of the many tangible outcomes of the Portland Bureau of Transportation's North Williams Traffic Safety Project. This project began in January 2011 as an attempt to improve the busy bikeway on Williams Avenue; but after concerns of racism from some people in the community and a lack of black voices involved in the planning process, it morphed into a citywide debate about the role bicycles play in gentrification and systemic discrimination. 18 months later a PBOT stakeholder committee decided on a major redesign of the street. In addition, stakeholders felt that users of the street should have a permanent reminder about the vibrant black culture that existed there long before the new high-rise apartments, breweries, and thousands of daily bicycle commuters.
PBOT committed $100,000 of the project's $1.5 million budget to the Black Williams Project in July 2013. As we reported last year, the project will include interpretations of the neighborhood's cultural past through a series of sidewalk tiles, signs, sculptures and kiosks created by local artists Cleo Davis and Kayon Talton Davis. There are 40 art pieces in total.
Now the work is ready and PBOT is hosting a "community celebration" for its unveiling. Here's a snip from the invitation:
Williams Ave. was once the vibrant heart of Portland's Black community. Formerly known as the "Black Broadway," the corridor included a concentration of Black churches, businesses, social service organizations and nightclubs that were thriving and active community institutions.




This series of tiles related to the Black Panther Party will be embedded into the sidewalk.

Although the landscape has changed, there is much to remember, celebrate and build upon. In 2012, the Williams Ave. Safety Project Stakeholder Advisory Committee recommended to the Portland Bureau of Transportation (PBOT) that these stories be honored through an art history project that would have a prominent place on the corridor. Thus, the community-led Honoring History of Williams Ave. Committee and the Historic Black Williams Project were born.

Since then, local artists Cleo Davis and Kayin Talton Davis have been collecting stories, memories and histories from Black community members… We hope that this project will serve as both a visual archive and an inspiration for future community efforts.
At Saturday's event you can expect to hear from the artists and neighborhood leaders and there will be group and self-guided walks.
For more on the art, the artists, and the important context around this project, read this story from The Skanner.
Saturday's event begins at 12:00 pm at Dawson Park. Check out the event listing for more details.
— Jonathan Maus: (503) 706-8804, @jonathan_maus on Twitter and jonathan@bikeportland.org
BikePortland is supported by the community (that means you!). Please become a subscriber or make a donation today.
If you have questions or feedback about this site or my work, feel free to contact me at @jonathan_maus on Twitter, via email at maus.jonathan@gmail.com, or phone/text at 503-706-8804. Also, if you read and appreciate this site, please become a supporter.