There have been four (officially recorded) rear-end collisions involving a bicycle rider in the past week. One of them resulted in a fatality and the other three resulted in serious injuries. The incidents have occurred throughout Oregon and nearby southwest Washington.
While the incidents are unrelated, the uncommon frequency (two happened on the same day) led to a response by the Oregon State Police earlier this week. In an official statement published on August 17th, they said: "OSP urges all drivers to be alert for bicyclists and other vulnerable highway users. When approaching from behind, make sure there is adequate room to safely pass on the left of the bicyclist(s)."
Here is a brief description of the four collisions:
August 13th: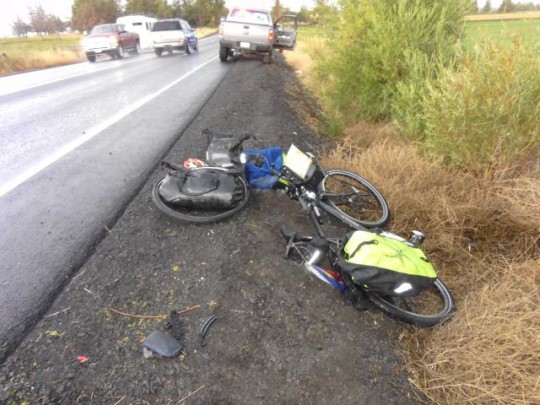 (Photo: OSP)
Frederick Bouwman, a 53-year-old Canadian man on a bicycle tour was hit while biking westbound on the paved shoulder of Highway 126 east of Powell Butte in Crook County. That's about halfway between Redmond and Prineville in eastern Oregon. Bouwman was struck from behind by the front quarter-panel of a GMC Sierra pickup. He was "ejected from his bicycle and seriously injured" according to the OSP. As of August 13th, an enforcement decision was still pending the outcome of the investigation.
August 13th:
(Photo: OSP)
At about 5:00 pm, a 56-year-old man named Juan Garcia died after he was hit from behind by a Chevrolet van driven by Richard King. The collision occurred on Highway 47, about two miles north of McMinnville. Police say King fell asleep at the wheel prior to striking Garcia, who was riding northbound on the shoulder. While not enforcement decision has been made yet, the OSP says "Driver fatigue is being investigated as a contributing factor."
August 14th:
Street view of NW 63rd Street in Vancouver. Not much room for error on a road like this.
Our office mate (and landlord) Todd Mobley of Lancaster Engineering was hit while riding on NW 63rd Street in Vancouver on his way into work Thursday morning. According to Clark County Sheriff's Office, the collision was caused because the driver of the car, Jacob Piel, "was trying to retrieve a pacifier that his child in the back seat had dropped." Mobley suffered a broken sternum, a concussion, and many lacerations all over his body. The police cited Piel on suspicion of driving while suspended and Negligent Operation of a Motor Vehicle in the Second Degree.
August 16th:
In the southern Oregon city of Grants Pass, a 62-year-old woman was seriously injured when she was struck from behind while riding along Rogue River Highway. Ardena Cameron (from Roseburg) was riding in a line of five other bike riders when an 86-year-old man driving a Chevy pickup ran into the back of her. The driver, Aaron Toller, was cited for Careless Driving. According to the OSP, Toller, "… told the investigating trooper that oncoming traffic prevented him from moving to the left as he was approaching the bicyclist."
In all three of the Oregon cases, the driver of the motor vehicle could be guilty of violating the state's safe passing law (ORS 811.065) which states that,
"The driver of a motor vehicle may only pass a person operating a bicycle by driving to the left of the bicycle at a safe distance and returning to the lane of travel once the motor vehicle is safely clear of the overtaken bicycle. For the purposes of this paragraph, a 'safe distance' means a distance that is sufficient to prevent contact with the person operating the bicycle if the person were to fall into the driver's lane of traffic."
Regardless of the enforcement outcomes, these collisions highlight an increasingly important issue in Oregon: Rural road safety. In a state that takes bicycle tourism very seriously, the number of people riding on rural roads will only increase in the months and years to come. If we are encouraging people to get out and ride on these roads, we have a responsibility to make sure they are as safe as possible.
For more on Oregon's safe passing law, read our January 2014 installment of Get Legal with Ray Thomas.