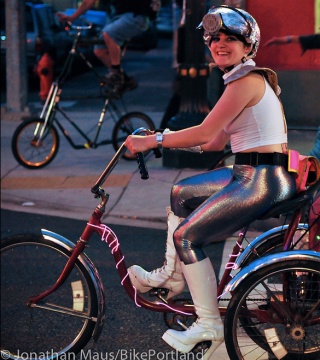 Producer Lily Karabaic showing her high-heel riding
skills during the Bowie vs. Prince Pedalpalooza ride.
(Photo by J.Maus/BikePortland)
If you are what you wear, being yourself is often a challenge for people who ride bikes.
Armed with the practical tips of guest host Meghan Sinnott, our latest podcast episode is here to help. Sinnott joined producer Lillian Karabaic, Jonathan and me to talk about how to make people say "You got here on a bike?"
We tackle the best heels for biking in; Jonathan's affection for sport gear (and the times when he decides to abandon it); whether chain guards are necessary; and whether we should "light up our children like road cones" when they hit the road themselves. Even our recording engineer, Brock Dittus, pops in with a tip about men's pants.
As always, we close with a how-to tip and Lily's favorite TriMet-related tweets of the month.
I hope you'll tune in to the next episode too, when we'll change gears (just a little) by diving into the amazing social science of traffic signals.
You can subscribe to our monthly podcast with Stitcher or iTunes, subscribe by RSS, sign up to get an email notification each time we upload a new episode, or just listen to it above using Soundcloud.