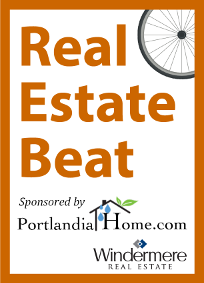 Portland's enthusiasm for building small and tiny homes has been so abrupt, so unusual and so locally unique that the home mortgage industry hasn't figured out how to take advantage of it.
But people in both government and real estate who see accessory dwelling units as a boon for affordable density in bike-friendly, walkable parts of town are trying to help lenders catch up. And there are signs that it's working.
As we reported last month, Portlanders are responding to the surging demand for local housing by building and/or permitting hundreds of accessory dwelling units. One in 10 new homes in some inner north and Northeast neighborhoods is an ADU, a city specialist says.
This is the latest part of a story we've been covering here on BikePortland for years: the ways Portland can keep creating the proximity that makes biking pleasant not just to high-rise dwellers but to those who prefer freestanding homes.
Portlanders, city data show, have taken the problem into their own hands. And yards.
Taylor Watkins, a Portland-based appraiser who specializes in ADUs, said local Realtors are now "putting into their listings 'possible ADU,' like, 'there's room in the basement or on the lot where you can put an ADU.' That's just been in the last 18-24 months that I've seen that."
But amid the excitement, there's a financial catch: Building a second home on a mortgaged lot requires either a lot of cash, a lot of unused equity, a second mortgage … or a refinancing loan for more than a property is currently worth.
"That loan product is exactly the same loan product that was quite abused in the lead-up to the housing crunch," said Eli Spevak, a Portland co-housing developer.
Spevak, who the Portland Mercury called "the coolest condo developer ever" in 2008, spoke by phone from Cambridge, where a Loeb Fellowship at Harvard University has given him a year to study the business and policy behind small, dense single-family homes. He said the rapid growth in demand for close-quarters housing is being slowed by a home-finance industry that's understandably shy about creating new products.
"The mortgage industry in the past four years has been the opposite of an innovative industry," Spevak said. "It's been contracting the options."
Explaining ADU law to homeowners appraisers, insurers, brokers and other industry pros is another obstacle, said Jordan Palmeri, a science and policy analyst in the state Department of Environmental Quality's green building program.
"Joe Homeowner becomes a developer overnight when he decides to put an ADU in the backyard," Palmeri said. "You're basically training homeowners to become developers."
Palmeri is hoping to educate the community with a free financing guide that the state will publish in June, listing local banks that offer financing options for ADUs. He's hoping that'll push more of them to create ADU-focused programs. It'll be released to coincide with a one-day tour that'll invite people inside local ADUs.
How to finance ADUs: five options
Sally Spear, 63, moved into a 200-square-foot backyard cottage designed by her son-in-law Schuyler Smith, 33, in 2010.
(Photo by M.Andersen/BikePortland)
In the meantime, Spevak suggested a few plausible options for raising enough cash to add an ADU:
Home equity credit: Good if you've paid down a lot of your mortgage. "Empty-nesters, that kind of generation, are doing it with traditional mortgage financing, equity lines of credit," Spevak said.
Cobble cash together: This works for low-cost ADUs like converted basements. (To qualify for an ADU permit in Portland, a unit needs a bedroom, bathroom, full kitchen and its own entrance.) "If you're converting something to an accessory dwelling unit, sometimes the conversion can be pretty inexpensive," said Spevak. "In that case people, I'm guessing, are just doing it on credit card debt."
Refinance: A refinanced first mortgage that includes the construction cost of the new unit is "the ideal" for buying an ADU if you don't have capital on hand, Spevak says. Advantis Credit Union is locally known for a program like this, but it doesn't currently offer a 30-year fixed rate — only a 15-year fixed and a 5/1 adjustable rate mortgage. Another downside: many homeowners have already refinanced into low interest rates.
Get a second mortgage: "They tend to have pretty high rates," Spevak says. "The problem is that that first loan is going to have a provision in it that says it gets anything on the property. … You can't just carve out something for the second lender to have something yummy that the first lender doesn't have."
Create a condo association: Spevak did this for his Sabin Green project. He estimates that separating the ownership of the units from the ownership of the lot cost about $20,000 in all. "It actually wasn't hard for me to do at all," he said. "It really worked out."
Spevak said he thinks Portland lenders may be the first in the country to make these options easier and cheaper for consumers.
"I think there's a chance for local credit unions to innovate with new products, and I think Portland's a good market for that to happen," he said. "Home values are going up again. People are going to want to tap the equity in them. … If you're a lender and you want to stay in business, you're going to have to come up with ways to get loans to people who don't want to refinance."
— The Real Estate Beat is a weekly column sponsored by real estate broker Lyudmila Leissler of Portlandia Home/Windermere Real Estate. Let Mila help you find the best bike-friendly home.
You can sign up to get an email of Real Estate Beat posts (and nothing else) here.
Michael Andersen was news editor of BikePortland.org from 2013 to 2016 and still pops up occasionally.